Your baby this week
6 weeks pregnant
Star twins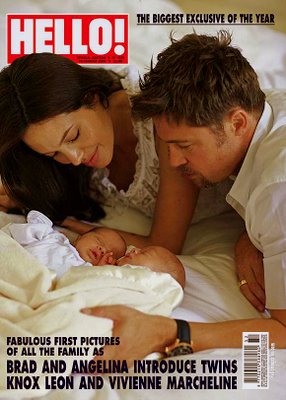 Some celebrities who have had twins: Brad Pitt and Angelina Jolie (Knox and Vivienne), Rebecca Romijn and Jerry O'Connell (Dolly and Charlie), Garcelle Beauvais-Nilon (Jax and Jaid), Jennifer Lopez and Marc Anthony (Max and Emme), Julia Roberts (Phinneaus and Hazel), Charlie Sheen (Max and Bob), Marcia Cross (Eden and Savannah), Dennis Quaid (Thomas and Zoe), and Sean Combs (D'Lila and Jessie).
For more news about famous parents and their babies, check out our CelebrityPregnancy.com site!
---
In the know
There are three trimesters during pregnancy, divided into periods of approximately 13 weeks. Trimesters are used to track times of fetal development -- and your progress through pregnancy!
Here's a quick trimester-by-trimester breakdown:
The first trimester is known for mood swings, morning sickness, fatigue, breast tenderness and enlargement.
[ See articles about trimester 1 here ]
The second trimester seems to be a whole new ball game for many expectant moms, who report feeling more energetic and healthy than they felt over the previous three months!
[ See articles about trimester 2 here ]
The third trimester can again bring fatigue and other maladies such as frequent urination, heartburn and ligament pain as your body prepares itself for childbirth and copes with the additional demands on your system.
[ See articles about trimester 3 here ]
---
A little blood?
If you experience vaginal bleeding during the early part of your pregnancy, the first thing you probably feel is fear. There are, however, many reasons you might see blood, and Obstetrician/Gynecologist David Barrere explains right here that one of the causes could be implantation bleeding.
---
Getting your rest?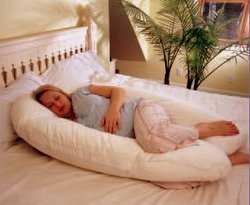 Many pregnant women wonder why they are subjected to restless nights, from the beginning of their pregnancy to the end. The reason is simple: To prepare them for the many sleepless nights they will get after baby is born!
Even though you may be suffering from aching legs, back pain and other discomforts, there are certain things you can do to fall asleep faster and to sleep better. Click here for some tips to help you get a better night's sleep.
---
Planning ahead... way ahead
If you're interested in having a home birth or learning more about it, check out this book we found on Amazon.com, The Home Birth Advantage!
Sign-in
Already a member? Sign-in to access your profile and learn about the changes your baby is going through today!
Sign-in to your account »
---
Sign-up
Create your own personalized pregnancy calendar. Get day-by-day updates about your baby's progress, store notes, log doctors appointments and more.
Sign-up now »
---