Your baby this week
6 weeks pregnant
In the know
The baby's nervous system, spine and brain are beginning to develop, and your baby is growing blocks of tissue which will soon form the spinal column, ribs and abdominal muscles.
Want to see more of your baby's development? Click here!
---
Now what...?
After your pregnancy is confirmed, then what?
Doula Polli Kenn suggests, "The best thing you can do for yourself is to eat well, get rest, and get into heavy planning mode for the future. Find a caregiver who cares about you and wants to not only be present for labor, but who will really listen and think about your needs beyond pregnancy and delivery. Midwives are great for taking more time with you and giving one on one attention, but a very caring OB or family doctor can be just as helpful."
Read more about birth coping techniques here!
---
Spreading the news
Ever since you were a little girl, you knew you wanted to be a mommy -- and now it's your turn to tell the world you're going to be one! So after the pregnancy test comes back positive, why not make this special time in your life memorable by finding out about some creative ways other parents announced the miracle to friends and relatives? Read what other expectant parents did here!
---
5 things to know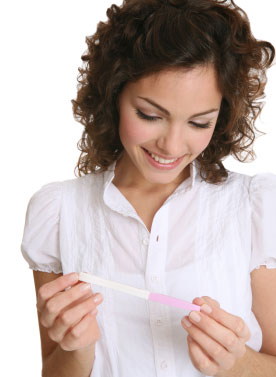 Not much else changes your life in so many ways as having a child does. Pregnancy and childbirth are life altering events for women and their involved partners. Many women enter their birthing facility as a private and reserved individual only to succumb later to the throes of labor and literally let it all hang out.
Having a baby can tell a woman a lot about herself that she previously did not know. Like the strength of her endurance, the magnificence of her body, and yes, the fact that there exists an occasion where she will not give a hoot who sees her in the most private of body positions. I strongly encourage pregnant women to embrace this truly magical time, a time when their own soul allows the entrance of another into this world.
Read on for 5 things that you should know about your pregnancy as you begin this journey.
---
Support & advice
"I was looking for a fun way to tell [my husband] about the 'bun in the oven' and found the perfect idea while relying on my old friend, Mr Google: A scavenger hunt! They happen to be a specialty of ours, and we've been putting them together with friends for years (we're still kids at heart, can you tell?), so it seemed like the perfect idea!"

- Heather
Sign-in
Already a member? Sign-in to access your profile and learn about the changes your baby is going through today!
Sign-in to your account »
---
Sign-up
Create your own personalized pregnancy calendar. Get day-by-day updates about your baby's progress, store notes, log doctors appointments and more.
Sign-up now »
---