Your baby this week
42 weeks pregnant
Today's the day
Most medical caregivers will insist on inducing you if the baby hasn't shown up by the time you are 2 weeks past your official due date.
---
Birth story
From Nancy's birth story:
I was two weeks overdue, and had come to the conclusion that my pregnancy was a permanent condition. Until I was four months pregnant, I hadn't been able to really accept that I was actually, finally pregnant... and now it wouldn't end! ...
At my doctor's office that Monday morning, they told me that not only was I barely dilated and effaced, it appeared that the baby had not yet 'dropped.'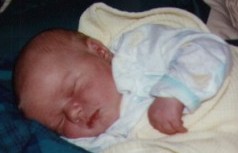 This was a little unusual, since the week before I had been for an ultrasound and it was determined that the baby was term and already weighed over eight pounds.
The doctor stripped my membranes, hoping that this might initiate labor, and decided that if nothing happened, I would check into the hospital that night to be induced the next morning. All along I had hoped for no intervention - and had heard all the pitocin horror stories, but I was now ready to have this baby, and was willing to do whatever it took.
Read the rest of her birth story here.
---
Extra!
"It took 25 or 30 years for people to understand that menstrual cramps are a real thing, that PMS is a real chemical change in the body. Think of all those little girls whose mother said to them, 'Why do you just want attention?' It's still new information that these things are actual body problems. Postpartum depression is a real, viable thing. Now they can help people." -- Whoopi Goldberg in an Academy of Achievement interview.
Could you be at risk of postpartum depression? Find out the signs -- and what you can do about it -- here
Sign-in
Already a member? Sign-in to access your profile and learn about the changes your baby is going through today!
Sign-in to your account »
---
Sign-up
Create your own personalized pregnancy calendar. Get day-by-day updates about your baby's progress, store notes, log doctors appointments and more.
Sign-up now »
---