Your baby this week
41 weeks pregnant
Check in to see if anyone else is overdue on Pregnancy and Baby's message boards!
---
Ideas and Inspiration
Says Ric: "About a week ago, a friend of ours told us that he had a sure-fire method to 'induce' a late birth by eating a specific recipe. He had NEVER seen it fail. Of course, we were incredibly skeptical but we did it and, whether total coincidence or not, it WORKED!
Macaroni and Cheese with A-1 Sauce
Cook the mac and cheese as usual. When you go to eat the Mac and Cheese, put as little or as much A-1 sauce on the meal as you think you can handle. It isn't the tastiest thing on the planet. Just make absolutely sure that you eat a reasonable portion of the mixed concoction.
Within 24 hours, you should have your baby." (Editor's note: No guarantees from here, just good wishes for you and your baby!)
We have hundreds of great recipes -- from the quick and easy to those fit for a queen -- at our sister site Chef Mom: click here to see!
---
In the know
The placenta now weighs about a pound and a half and is deep red -- it looks a lot like a big piece of raw liver. For more details (and a couple photos), see the article, What does the placenta look like?
---
Stork parking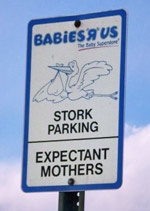 Pregnancy poll: Should pregnant women be offered special ('stork') parking spaces?
Yes: 56.59%
Only in the last trimester: 24.33%
No: 9.94%
Only if high-risk: 5.47%
Only at certain places: 3.67%
Sign-in
Already a member? Sign-in to access your profile and learn about the changes your baby is going through today!
Sign-in to your account »
---
Sign-up
Create your own personalized pregnancy calendar. Get day-by-day updates about your baby's progress, store notes, log doctors appointments and more.
Sign-up now »
---