Your baby this week
38 weeks pregnant
In the know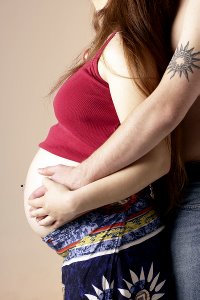 Medical studies have shown that women with supportive labor companions have better outcomes, shorter labors and need less pain medication than women who labor alone.
In recent years, birth doulas, who are trained to provide physical and emotional comfort to women during childbirth, are quickly becoming a popular labor support option.
Read more in the article "Doulas are a girl's best friend"!
---
Quick tip
How can you relieve the leg cramps that are so annoyingly common during pregnancy? Lisa Stone, an ACE-certified Pre-and Post-Natal Fitness Instructor, has some ideas for you here!
---
Ideas & insight
With the lights dimly lit and soothing music softly playing in the background, the room where Elizabeth Jones Kramer is preparing to give birth to her first child in seems like it belongs at a spa instead of the labor and delivery wing of a hospital. After completing a 10 hour class, Kramer is ready to give birth in a quiet and calm setting, free of the fear of extreme pain.
Relying on the techniques learned in a course on hypnosis, Elizabeth and her husband Ben will be welcoming their child into the world using a pain and stress management strategy that has helped thousands of women experience a natural childbirth.
Could hypnosis work for you? Read more about this method of relieving labor pain here.
---
It's time to get ready for your little one, starting with our baby guide! Find out about caring for your newborn, diapering details, baby health answers, food facts, baby message boards and much more.
---
Kickin' it up
Many pregnant mamas we've known place a lot of importance on baby kicks. Baby kicks are important, but you also don't have to panic if kicks slow a little toward your baby's expected due date. As babies grow they run out of room and seem less active -- it's not usually a big deal. It only means you're closer to welcoming your little one to the world.
That said, it is wise to do periodic kick counts, which is a quick and simple way assess your baby's movements. Find out how to do a baby kick count here!
Sign-in
Already a member? Sign-in to access your profile and learn about the changes your baby is going through today!
Sign-in to your account »
---
Sign-up
Create your own personalized pregnancy calendar. Get day-by-day updates about your baby's progress, store notes, log doctors appointments and more.
Sign-up now »
---