Your baby this week
38 weeks pregnant
In the know
In the US, the average weight of a full-term newborn is 7-1/2 pounds. By definition, a 'low birth weight' baby weighs less than 5-1/2 pounds.
At birth, boys tend to weigh slightly more than girls (about 1/2 pound) and second and subsequent babies tend to be heavier than were their elder siblings.
---
Attention!
If you think your water has broken, contact your caregiver immediately and do not have sex, as this carries the risk of infection. If your water has indeed broken, prepare to have your baby in the next 24 hours. Also look for the bloody show: a small amount of blood that appears as the cervix stretches and dilates. (If you see a large amount of blood, contact your caregiver immediately.)
You may also pass your mucous plug. When this happens, it does not necessarily mean that you will be in labor immediately -- it could still be days before that happens.
>> If your water breaks should you go to the hospital?
---
It's time to get ready for your little one, starting with our baby guide! Find out about caring for your newborn, diapering details, baby health answers, food facts, baby message boards and much more.
---
How long in the hospital?
So, you think you've scored with a private room with en suite bathroom and are ready to settle in for a couple days of well-deserved R&R. Not to burst your bubble, but you might want to know now vs getting a rude surprise later: A hospital stay -- even after a completely normal, healthy delivery -- isn't much like staying at the Ritz. (Or even Motel 6, for that matter.)
Read more about what to expect while in the hospital -- after your delivery!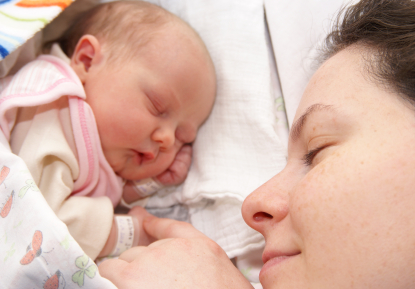 ---
Skip it secondhand
A reader writes: "Do you have any advice on shopping for second-hand baby equipment at garage sales?"
Parenting expert Ann Douglas answers: "One of the hottest-selling types of items at garage sales is baby equipment, but what many parents and parents-to-be fail to realize is that it's not always a good idea to purchase used baby equipment.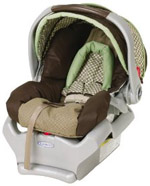 For example, it's generally a bad idea to purchase a secondhand car seat. The problem is that you can never be 100 percent sure that the car seat hasn't been involved in a car accident. (Even a minor fender-bender can make a car seat unsafe.) Even if you're certain that the car seat hasn't been involved in an accident, you still need to think twice about the purchase: you'll want to pass on the chance to purchase a car seat that is more than 10 years old or that is missing its installation instructions.
Click here to read the rest of her list of what not to buy used.
---
Making it go
There are several methods of inducing labor, including using an IV drip of the hormone oxytocin (Pitocin), placing prostaglandin gel on the cervix, or by rupturing the membranes. A newer, still experimental method is via the use of cytotec/misoprostol. In some cases, this drug has been applied to the cervix, provoking contractions. Find out more about its use here.
Sign-in
Already a member? Sign-in to access your profile and learn about the changes your baby is going through today!
Sign-in to your account »
---
Sign-up
Create your own personalized pregnancy calendar. Get day-by-day updates about your baby's progress, store notes, log doctors appointments and more.
Sign-up now »
---