Your baby this week
36 weeks pregnant
Baby movement
Your baby's movements will probably begin to feel a bit different now: more controlled rather than quick jerks, and, because of his or her size, more like rolls and turns than free kicks and punches. As long as you feel your baby move every day, he or she is probably fine.
Haven't heard from junior in awhile? Have a glass of fruit juice (orange is usually recommended) and go lie down. After a few minutes, the sugar and your stillness should perk up your little one and relieve your concerns. If, however, your baby doesn't move for several hours, contact your healthcare provider immediately.
Click here to read an article about how your baby's movement should be.
---
Your partner's role
In the seventies, a partner's role in the birthing and pregnancy process was finally brought to where it belonged: next to the mother. With the advent of the Bradley birthing methods, fathers were finally given something important to do.
They became "coaches" for the birthing event, and their need to be needed was fulfilled.
Yet, the nine long months ahead of the "world series" game is a difficult and vague time for the men in our lives. Men really have no concept of how we feel physically and emotionally during this time, so they need our help and direction to create a safe and friendly environment for the mother-to-be and the child. They need to feel part of this miraculous process to establish a relationship with the unborn child early on.
Find out more about the Bradley method for birth here!
---
Advice & support
Don't forget your Kegels! These exercises are done in order to strengthen the pelvic floor during delivery (to help you push more efficiently) and to assist your body in recovering from childbirth (and to avoid stress incontinence). They are most simply done by contracting and holding the muscles used to stop the flow of urine.
For each Kegel, tighten for three seconds, then relax for three seconds. Start with 10 reps a day, and work up to 30 repetitions. One really cool thing about Kegels is that you can do them anytime, anywhere -- put those minutes of waiting at a red light, at the doctor's office or for your report to print out to good use! Read more about Kegels here!
---
Don't forget the suncreen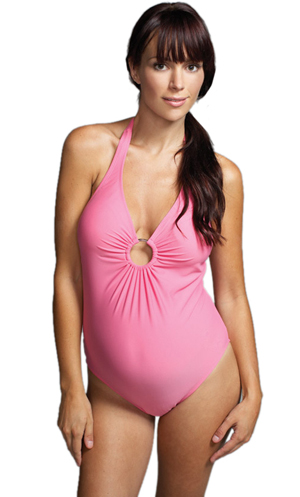 Sunscreen can be your best defense against premature aging and skin cancer! Before you head outdoors, remember to apply the sunscreen. "If used properly, sunblock is very effective at preventing the harmful effects of the sun that may lead to both skin cancer and accelerated aging," says Dr Sarah Weitzul, assistant professor of dermatology at UT Southwestern Medical Center at Dallas.
Click here for more and remember to keep these ideas in mind once your baby is old enough for suncreen -- his or her skin will need extra protection too.
---
Expert tips
A P&B reader writes: "My husband is in the military, and won't be here for my baby's birth. Do I really need a coach for my birth? If so, who should I ask?"
Our expert answers: "Yes, I think you really need to have someone, maybe a relative, trusted friend or professional labor support person with you for your birth. Depending on your relationship you may want to ask your mom, mother-in-law, sister or aunt. If you have a close friend with whom you feel comfortable you could ask her as well. The reason that any of these people can be helpful is that they will support you, help you, distract you and advocate for you."
Be sure to check out more suggestions right here!
Sign-in
Already a member? Sign-in to access your profile and learn about the changes your baby is going through today!
Sign-in to your account »
---
Sign-up
Create your own personalized pregnancy calendar. Get day-by-day updates about your baby's progress, store notes, log doctors appointments and more.
Sign-up now »
---