Your baby this week
36 weeks pregnant
There's big... and then there's big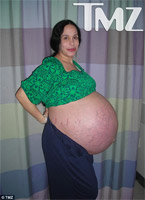 Yes, we know you feel big. Huge even. Of whale-like proportions.
But still... you're unlikely to be as enormous as Nadya Suleman (aka "Octomom") was shortly before she gave birth to her eight babies!
Take a look at this side view (see it bigger here -- along with a shot from the front), and gain a whole new appreciation of the capabilities of the human body.
(PS: Check out here how Octomom supposedly looked in a bikini a year after her octuplets were born.)
---
Never say never
Who needs to be told how to breathe? You might be surprised how it could help. Here's what Sarah, a mom on the on the P&B message boards had to say about the "pant pant pant" thing.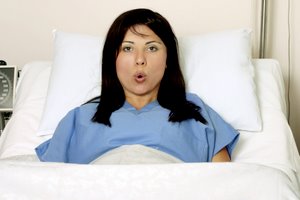 I have always though that the panting breathing was totally moronic. It seemed like the dumbest thing you could wind up doing and I honestly felt embarrassed in childbirth class when we learned it -- I thought there was no way I would ever use this technique.
But when I was in transition, my doula offered it to me and I just looked into her eyes, followed her in the panting and felt like my body became two halves. There was a top half that ended at my diaphragm and there was a bottom half that began with the pain at the top of my uterus. Every time I did the panting I felt like I could separate my efforts and put my conscious effort into the breathing and my involuntary effort into the contractions below that line. In that way, I think my voluntary muscles stayed relaxed and let my body do the work.
Want to talk? Meet other expectant moms on the Pregnancy & Baby message boards!
---

Pounds & ounces
A number of factors affect a baby's birth weight. Click here to read as Obstetrician/Gynecologist David Barrere explains what impacts how much your little bundle of joy will weigh.
---
Extra!
People wrote that when Entertainment Tonight reporter Keely Shaye Smith's water broke, she told her husband, Pierce Brosnan (of James Bond fame), and they promptly left for the hospital. After being stuck in Los Angeles traffic for two hours, the contractions became more intense, so "[Brosnan] drove down the center divider for 20 miles," to get his wife to the hospital before their son, Dylan, was born.
---
Stress less
Anxious or depressed mothers-to-be are at increased risk of having children who will experience sleep problems in infancy and toddlerhood, finds a study published in Early Human Development.
While this finding presents itself as important news to tired new moms and dads -- for whom a soundly sleeping child spells out well-deserved respite -- it may carry even more value for babies. For them, sleep ranks as one of the most highly regarded indexes of healthy development, and plays a critical role in consolidating memory and facilitating learning, regulating metabolism and appetite, promoting good moods and sustaining both cardiovascular health and a vigorous immune function.
Learn more here, and come back tomorrow for some tips on stress relief!
---
Every baby born into the world is a finer one than the last. - Charles Dickens, Nicholas Nickelby
Sign-in
Already a member? Sign-in to access your profile and learn about the changes your baby is going through today!
Sign-in to your account »
---
Sign-up
Create your own personalized pregnancy calendar. Get day-by-day updates about your baby's progress, store notes, log doctors appointments and more.
Sign-up now »
---