Your baby this week
36 weeks pregnant
Is a doula necessary?
Something I hear often from mamas to be is, "I don't need a doula because I already have a partner/husband/boyfriend who will be helping me during labor." This argument sounds logical and it's obviously good and fine to have your partner at your labor and birth, however, before you slash the idea of a doula off your list forever, know that a partner, even an excellent partner, is not the same as a doula.
If you haven't even heard of doulas before then read what is a birth doula, then check out these four reasons a birth doula is a fabulous idea.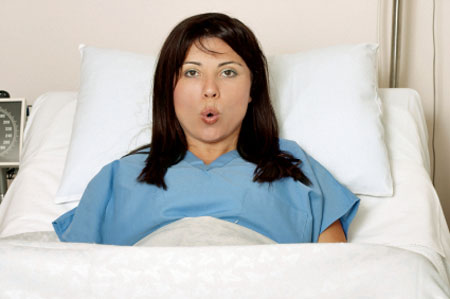 ---

Hormone magic
As you've probably noticed, your body is continuing to create hormones. But, you may not know that the hormones which prepare your breasts for nursing also swell the breasts in both boy and girl babies.
Not only are you making hormones, but also valuable antibodies that aid your little ones immature immune system. They can help protect against bacterial and viral infections like German measles, influenza, mumps, whooping cough, and streptococcal infections.
To find out more about the third trimester, click here.
---
Breastfeeding
Tips for beginners
Like walking, breastfeeding is a skill. Both come naturally, but both require practice. Babies take baby steps before they run, and pregnant moms should take their breastfeeding "baby steps" before their hungry newborn arrives.
Breastfeeding counselor Marie Zahorick has twelve tips to help you prepare:
Tip #1: Understand that your baby's position at the breast is crucial and can help you avoid soreness. If you've never seen a baby breastfeeding, watch a video or go to a support meeting for breastfeeding moms. You and your baby should be belly-to-belly, with his ear, shoulder and hip all forming a straight line. His nose should be almost touching your breast, and his mouth should be extremely wide open with his lips flanged outward, not rolled inward.
Read the rest of the tips here!
---
Make a belly mask!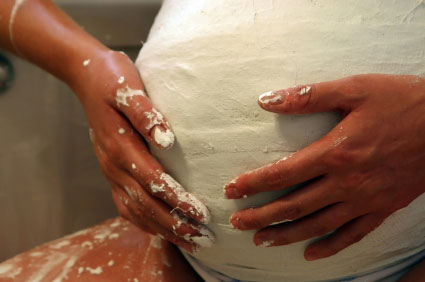 Belly casting (or masking) is a wonderful art form celebrating the amazing transformation of a woman's body during pregnancy. It is usually done two to three weeks before a woman's due date, but can also be used to capture the changes during pregnancy as well. It is a remarkably simple and inexpensive project, although it's just a little messy! Here is one mom's experience with making a belly cast.
Toward the very end of my second pregnancy, I had learned about belly masking and saw some pictures. I thought it sounded like a wonderful idea, but never got motivated enough to do it in those final weeks. At that point, I was thinking more about how great it would be to have baby on the outside rather than the inside.

After my second baby girl was born, however, the regret set in. At that point, I was determined that I would definitely do a cast of my pregnant belly, if I was ever fortunate enough to conceive again.
---
It's not too late -- be sure to join your Due Date Club!
Sign-in
Already a member? Sign-in to access your profile and learn about the changes your baby is going through today!
Sign-in to your account »
---
Sign-up
Create your own personalized pregnancy calendar. Get day-by-day updates about your baby's progress, store notes, log doctors appointments and more.
Sign-up now »
---