Your baby this week
33 weeks pregnant
Ideas and inspiration
Did you know that doulas have been found to shorten first-time labors by an average of two hours? According to Doulas of North America (DONA), "Doula refers to a supportive companion (not a friend or loved one) professionally trained to provide labor support. She performs no clinical [medical] tasks.
"The term 'doula' also refers to lay women who are trained or experienced in providing postpartum care -- mother and newborn care, breastfeeding support and advice, cooking, child care, errands, and light cleaning -- for the family. To distinguish between the two types of doulas, one may refer to 'birth doulas' and 'postpartum doulas.'"
Find out more at in this article about finding a doula.
---
Weird words
What is vernix? It's a greasy white substance coats and protects the baby's skin in utero. Some babies happen to be born with lots of vernix still on the skin. It is harmless, no longer necessary, and is usually washed or wiped off.
Are you curious about other pregnancy terms you may have heard but are not 100% sure of their meanings? Feel free to browse our Pregnancy Dictionary!
---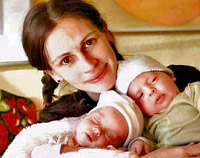 Pop quiz answer
The answer to yesterday's question is actress Julia Roberts, talking about how her body looked when her twins were on the way. Also of Hazel and Phinneaus' in-utero days, she said, "They're huge, they're bionic, it's pretty amazing."
---
Ask the expert
A reader writes: "We have decided not to circumcise our son when he is born. Is there anything special we need to do to care for/clean an uncircumcised penis?"
Our expert answers: "In general, an uncircumcised penis needs no extra care when he is a newborn. A freshly circumcised penis needs extra attention since circumcision, despite being routine in some cultures, is still considered minor surgery and along with that goes the risk of infection and the need for careful post-surgical care. In your case, you will get off easily. The tip of the penis (glans) will be tightly covered by protective foreskin -- which is simply a flap of skin surrounding the glans penis. It is not separate from the penis at birth, and actually takes up to several years before the foreskin can -- or should -- be retracted.
During this time, the foreskin is slowly separating from the penis. Forcing retraction prematurely can cause several major problems -- possibly even requiring surgery to once again place the foreskin over the head of penis. In this case, please let nature take its course, and allow your child's doctor to inform you when it's okay to retract the foreskin.
Click here for more.
---
Booking it

From week 29 through the end of pregnancy, find out what you need to know about the last trimester, with detailed information about your health, week-by-week fetal development, printable checklists, and advice from real moms in Pregnancy for Dummies, available now!
Sign-in
Already a member? Sign-in to access your profile and learn about the changes your baby is going through today!
Sign-in to your account »
---
Sign-up
Create your own personalized pregnancy calendar. Get day-by-day updates about your baby's progress, store notes, log doctors appointments and more.
Sign-up now »
---