Your baby this week
4 weeks pregnant
Ideas and Inspiration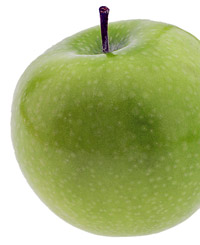 You might feel like you have an insatiable appetite and are always hungry in between meals. This is because your body now requires more fuel to burn. Try to snack on nutritious non-fat foods, like fruit or popcorn. To avoid overeating, you may want to plan meals in advance, so that you don't gorge yourself on anything in sight.
Another great snack -- pumpkin seeds! During the autumn season you can make them yourself (or whenever you can grab ahold of a pumpkin at the market). During the rest of the year, you can find them pre-packaged. They are easy, delicious, portable and so good for you.
Find out more about pregnancy nutrition here.
---
Glow
Think you're pregnant? Use exfoliants carefully! Not all skincare products are created equally. Click here to find out what we mean!
---
Pregnant and 40+
Do you think there's nothing good anyone has to say about pregnancy, birth and babies for women age 40 or better? Did you know that "older" moms have many advantages their younger counterparts don't?
These women are having babies in record numbers. Despite all the warnings, the vast majority of these women experience no problems with either their pregnancies or raising their children. Women over 40 are often acutely aware of the risks associated with pregnancy, and we'd much rather discuss the unique experiences of being pregnant at this age.
So, what are they? Read here to find out!
---
Are you pregnant?
Pregnancy signs & symptoms: It's one of life's biggest questions: "Am I pregnant?" It can be an exciting, wonderful -- and even a little bit frightening -- prospect. Pregnancy & Baby takes a look at some of the most common indications of pregnancy in this article: Click here to compare your symptoms to our list.
---
Boy or girl?
How long have you been trying to get pregnant? It may give you a clue as to what gender your baby is! There's still no way to choose the sex of your baby, but Dutch researchers say they have found a way to better predict whether an expectant mom is having a boy or girl by looking at the timing of her pregnancy.
Sign-in
Already a member? Sign-in to access your profile and learn about the changes your baby is going through today!
Sign-in to your account »
---
Sign-up
Create your own personalized pregnancy calendar. Get day-by-day updates about your baby's progress, store notes, log doctors appointments and more.
Sign-up now »
---