Your baby this week
32 weeks pregnant
In the delivery room
I've known many a family who experience problems about who gets to be in the labor room or birthing area. For example, your mother-in-law may really want to be there when her grandchild arrives on the planet, which is a valid desire... but your choices matter more.
It may be that you're perfectly comfortable with lots of people attending your baby's birth -- but if you're not, it can cause some hurt feelings. Get some advice here:
---
Attention!
Unless specifically advised by your healthcare provider, do not take aspirin or ibuprofen during the latter part of pregnancy, as it can affect the ability of your and the baby's blood to clot -- important for both of you after delivery. Also check out these two articles: What to take for a pregnancy headache and Why pregnancy headaches need special attention.
---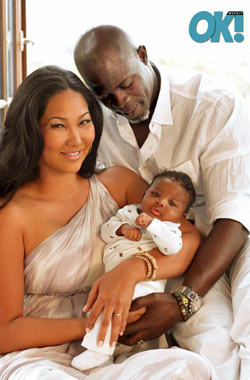 Extra
Baby Phat creator/designer Kimora Lee Simmons and actor Djimon Hounsou welcomed their first child together, a son. Kenzo Lee Hounsou war born on May 30, 2009, and weighed 8 pounds at birth. When Kenzo was 9 weeks old, he made his public debut in the pages of OK! magazine, as seen here.
Kimora, who has two older daughters by her ex, Russell Simmons, said during the magazine's interview, "He eats like a dinosaur! He's strong, and his cry is strong... When you hold him, he squirms right up out of your hands. I can tell as soon as he gets that foot on the ground, I'll probably never be able to hold him again."
Catch up on the latest celeb baby news at CelebrityPregnancy.com!
---
Tips & tidbits
You will probably end up on several (snail) mailing lists and might begin receiving samples of formula soon. If you plan to exclusively breastfeed, you may not want to keep them around (to avoid temptation -- from yourself or others who might want to "help" with the baby.) While not everyone can or will choose to breastfeed, it's worth your time to fully understand the advantages of breastmilk.
There are hundreds of medical studies and case examples that clearly demonstrate that breastmilk is best for your baby, and the American Academy of Pediatrics recommends breastfeeding your infant for at least 6-12 months. Some studies suggest that breastfeeding may offer protection against sudden infant death syndrome (SIDS), diabetes, obesity and asthma among other illnesses.
Click here to find out about even more benefits of breastfeeding.
---
Don't bug out
If you have bugs on or around you -- whether it's ants looking for a picnic to crash or mosquitoes wanting to go all Twilight on you -- can you still whip out a can of bug spray to get rid of them? How unsafe is basic insect repellent, anyhow?
First, you have to remember that many bug bites are more than simple annoyances: Insects can carry a variety of diseases, including West Nile Virus, Lyme disease and Rocky Mountain spotted fever. On the other hand, it's also known that most pesticides are chemical poisons -- and the less exposure you have, the better.
Read on: Can you use bug spray during pregnancy?
---
Connect with other expecting moms on the Pregnancy and Baby message boards!
Sign-in
Already a member? Sign-in to access your profile and learn about the changes your baby is going through today!
Sign-in to your account »
---
Sign-up
Create your own personalized pregnancy calendar. Get day-by-day updates about your baby's progress, store notes, log doctors appointments and more.
Sign-up now »
---