Your baby this week
32 weeks pregnant
Baby kicks
Sometimes your baby may kick on one spot over and over, and it will hurt. That's normal, because when the baby gets bigger and kicks harder he or she will kick a sensitive area (like your bladder) and it can really hurt! Recurring or severe pain, however, warrants a call to your healthcare provider.
---

Extra!
In an interview for People magazine, Meg Ryan talked about the filming of Courage Under Fire, a Gulf War drama. "The male actors were talking about their war wounds -- one broke his arm on the set, another hurt his leg -- and I'm like, 'I had a 10-pound baby a few years ago,' which shut everyone up." Her son, Jack Henry, was delived by Cesarean section in April 1992.
---
Premature labor?
If you go into labor too early, there are many ways in which your caregiver may try to stop your labor. Click here to read what Obstetrician/Gynecologist David Barrere says about a few of the medications that might be used, how they're administered, and the reasons for their use.
---
In the sun
The outside effects of your changing hormone levels aren't all desirable... but increased blood circulation can really give you a great pregnancy glow! Make the most of it with these tips, like this one: Use sunscreen. Use it every time and put it everywhere.
Even in winter, the sun's damaging ultraviolet rays can dry your skin, make it look older, break down cells and even cause cancer. Many facial creams are complete with sunscreen, so apply one every morning.Read the rest of these tips here!
---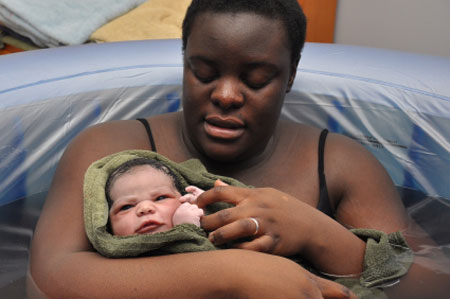 Where to deliver?
How about a freestanding birth center?
If you like aspects of both home birth and hospital birth, but neither one seems quite right, why not look at what a birth center offers? If you're considering a birth center, you won't need to find a doctor or a midwife, as the person and the place are a package. Read over the questions for hospitals, too, as some will apply to these centers as well. Most questions do not, though, because birth centers typically have low intervention rates and little opportunity or interest in separating you from your baby, partner, or friends.
One question you can ask: "Are you staffed by certified nurse-midwives and nurse practitioners or physicians?" Most birth centers have CNM's on the staff even if there are doctors as well.
Also be sure and ask about their hospital-transfer rate and use of drugs. Click here for more questions that you might like to ask.
---
Did you know?
There are actually three varieties of the breech position -- frank, where the baby is bottom down with legs straight up, incomplete, one or both legs pointing down and complete, where your baby is sitting with his or her legs crossed.
Breech isn't the only unusual presentation: a baby that's posterior is head down but facing forward, which could lead to a stalled labor and "back labor." In a face presentation, the baby is looking down the birth canal (head tilted back). A brow presentation is similar, with the head at a slightly different angle. Breech babies may require a Cesarean delivery, depending on their actual presentation and their size.
Sign-in
Already a member? Sign-in to access your profile and learn about the changes your baby is going through today!
Sign-in to your account »
---
Sign-up
Create your own personalized pregnancy calendar. Get day-by-day updates about your baby's progress, store notes, log doctors appointments and more.
Sign-up now »
---