Your baby this week
31 weeks pregnant
Nursery? Check!
There are so many things to keep in mind when planning your baby's nursery. Our interactive checklist offers you a personalized solution! Simply check the items you would like to see printed on your nursery to-do checklist, add any special notes you like, then press the button to create your list for you to print or save.
---
Watch your water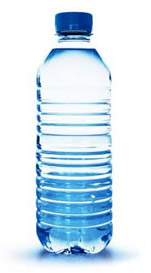 Water bottles -- on the desk, in the car, with you wherever you go -- have become commonplace. But did you know that, in addition to the water our bodies need, your always-at-hand bottle might also carry bacteria and other toxins?
While the water found at the tap is often as good as that found in bottled water, refilling and reusing bottled water bottles over and over may create an opportunity for unwanted bacteria and toxins. To learn more about keeping your water healthy, click here!
---
Come join your due date club on the Pregnancy & Baby message boards!
---
In real life
From Betsy's 30-week diary entry: "Baby is head down and will hopefully just stay that way from now on. I also scheduled the rest of my appointments while I was there. My next visit is in a month and we'll be purchasing the birth kit supplies then. Two weeks after that appointment is my home visit, and they planned some extra time to be here to help me with the belly mask. Apparently I'm the first non-Internet person they know who is doing this, so they were pretty excited about it. If it goes well (which I imagine it should), they are thinking about incorporating it into their childbirth ed classes."
Read the rest of this entry right here!
---
Pop quiz answer
From yesterday's Pop Quiz: Dorothy Louise Gage, born in 1898, is known to the world as Dorothy Gale, she of Kansas and of Oz.
According to The Wonderful Wizard of Oz FAQ, author L Frank Baum's sister-in-law, Sophie Jewell Gage, gave birth to a daughter in July of 1898. Unfortunately, young Dorothy died only four months later. It is said that Baum named his lead character after the baby to keep the little girl's memory alive.
---
Fashion foibles
Minsun Park knows that no pregnancy is perfect... and she proves it in her column, Parental Discretion. An excerpt:
I used to think pregnancy would be the blackest chapter in my personal fashion history. But now I know that it was merely a dress rehearsal. After months of wearing maternity "jeans" without a trace of denim paired with tops that resembled colorful pup tents, I vowed that I was going to be one hip mama once I delivered this baby.
Although we're no longer in the 80's, I still have an indelible vision of what a suburban mom looks like. You've heard of the Valley Girl. Well, let me introduce you to the Valley Mom.
If there were a Valley Mom Barbie Doll, she'd be wearing black leggings topped by a long baggy T-shirt with colorful rhinestone cats emblazoned on the front. Keds sneakers are de rigeur. Her hair is short, frosted and permed and her favorite accessory is a fanny pack. Yet now that I actually am a mom, I should look so good. Welcome to my nightmare.
Sign-in
Already a member? Sign-in to access your profile and learn about the changes your baby is going through today!
Sign-in to your account »
---
Sign-up
Create your own personalized pregnancy calendar. Get day-by-day updates about your baby's progress, store notes, log doctors appointments and more.
Sign-up now »
---