Your baby this week
30 weeks pregnant
In the know
Your cervix, though tightly closed, has already begun to soften in preparation for labor.
---
Take a guided tour
Take the fast and easy route through some of our best articles to help you countdown the last month of pregnancy! How's it work? Click the link below, and a pink bar will show up at the top of the page. That's your navigation toolbar, which will allow you to visit a set of hand-picked articles quickly and conveniently.
Start here: Countdown for the last month
---

Truer words...
"I wish someone had told me, when I was pregnant with my first baby, to take it easy. Loll in bed. Go to three movies in a row. Read lots of books. Do only what you want as much as possible. Celebrate your freedom. This may be your last time for many years (gulp). So repeat these phrases to yourself as often as possible: Take it easy. Enjoy this time; it may never come again."
Write these words down and carry them in your purse or briefcase. It helps to be reminded. Click here to learn more about nurturing yourself during pregnancy!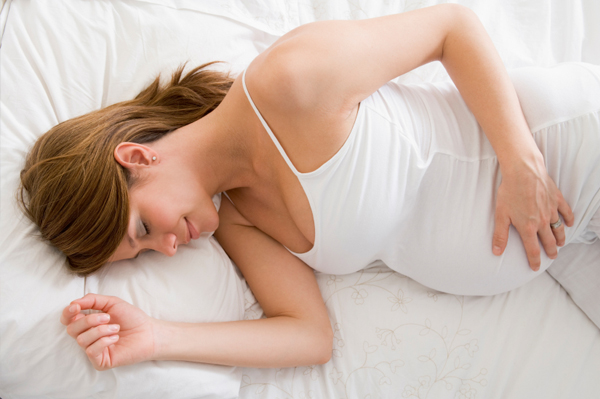 ---
Is it PPD?
Some women -- up to an estimated 30 percent -- get more than just the baby blues. They feel very depressed and are unable to bring themselves out of it.
This is known as postpartum depression, and it can develop immediately after birth or up to four weeks afterward. It lasts anywhere from a couple weeks up to a year -- the duration depends on the factors involved in the depression (such as hormonal changes, physical discomfort, problems with breastfeeding, an ill child, and lack of support) and the depth of the despair. Like the baby blues, it can affect all mothers -- not just first-timers.
What are the symptoms of PPD?
Typical symptoms of postpartum depression, or PPD, include headaches, chest pain, insomnia, anxiety, loss of appetite, feeling powerless or worthless, and no feeling of bonding with the baby.
Read more about coping with the baby blues, postpartum depression and beyond in the article, Baby blues or depression?.
---
Road trip snacking
Fun as they may be, taking a long car trip can wreak havoc on your diet. If you don't plan ahead, it's very likely you will spend a day living on fast food, candy bars, bags of chips and soda. But we have some healthy tips for your road trip!
It would be very surprising if you consumed any fruits or vegetables, whole grains or lowfat dairy products. Of course, maybe for one day, this really wouldn't be a big problem. But, if you'd like to at least try to maintain a healthy diet while you're on the road, there are several smart choices that travel well and will keep you feeling good on your journey. Click here for the list!
Sign-in
Already a member? Sign-in to access your profile and learn about the changes your baby is going through today!
Sign-in to your account »
---
Sign-up
Create your own personalized pregnancy calendar. Get day-by-day updates about your baby's progress, store notes, log doctors appointments and more.
Sign-up now »
---