Your baby this week
27 weeks pregnant
Advice from... everyone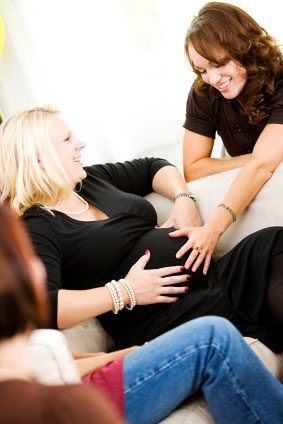 There is never a short supply of advice during pregnancy.
Mothers and mothers-in-law dish out counsel whether solicited or not. Friends share their pregnancy tales -- along with all the unpleasant details -- just so you'll "be prepared." Even perfect strangers see fit to ply you with their insights at the grocery store check out.
With all these words of wit and wisdom, every mother-to-be should know it all, right? Not quite. Read on here.
(Also find more features about health and wellness during pregnancy by clicking here!)
---
All the men say you can't get jealous when
you love your kids like you miss your wife.

- Dave Wakeling, from the title song
of the John Hughes movie She's Having a Baby
---
Comfort rocks
Do you have a body pillow? Says mom-to-be Ursula:
If anyone made me choose between my husband and my body pillow right now, I'd have a hard time...! Seriously, it really works for me. Without it, if I'm lying on my side, my belly pulls down, and my back and hips get very sore. I kind of roll myself over the pillow, with it between my knees, and it helps keep everything more aligned. I also sometimes prop it half under my back, so that I can lie somewhere between back and side.
Click here to check out one excellent, highly-rated body pillow, the Snoogle.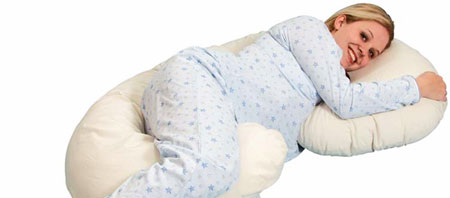 ---
Attention!
Testing for preeclampsia
Researchers have found that specific substances in the urine of pregnant women could serve as a screening/diagnostic tool for preeclampsia (hypertension and proteinuria during pregnancy). "Preeclampsia is one of the most common causes of maternal mortality in the United States, but establishing a correct diagnosis can be very difficult, especially in women with hypertension prior to pregnancy," said lead author Catalin Buhimschi, MD, assistant professor in the Department of Obstetrics, Gynecology and Reproductive Sciences at Yale School of Medicine. Get more information about preeclampsia -- and how to prevent it -- here.
---
Nurture yourself

Mom and author Jennifer Louden reminds you to take care of your pregnant self -- which also happens to be one of the best ways to take care of the little life inside you. And, she says, "If you're not good to yourself now, if you don't take time to replenish and enjoy yourself, how are you going to do it after the baby arrives?"
Because if mama ain't happy...
For veteran moms, it is already difficult to find time for yourself. But it is going to be exponentially more difficult after you add your new baby to your life's equation. So although you feel you should be putting all your focus on helping your first child(ren) adjust, some of time and attention needs to be given to you, too.
Sign-in
Already a member? Sign-in to access your profile and learn about the changes your baby is going through today!
Sign-in to your account »
---
Sign-up
Create your own personalized pregnancy calendar. Get day-by-day updates about your baby's progress, store notes, log doctors appointments and more.
Sign-up now »
---