Your baby this week
25 weeks pregnant
Register online
Expectant moms are no longer limited to registering for baby gifts at just one location. Online registries such as wish lists created on Amazon.com or Wishpot (an online registry that creates a list from any combination of stores on the web), are convenient and a time-saver for both mom and her guests.
>> Read more about online baby registries
---
Your body now
You probably have gained around 12 to 15 pounds by now, and the top of your uterus (fundus) is about two inches above your belly button, measuring almost ten inches above the pubic symphysis (the bony point).
---
"This may sound stupid, but..."
Step right up and don't be shy! On the web, you can get answers to all kinds of embarrassing questions you'd never want to actually ask someone in person.
Start here: Embarrassing questions about 'down there'.
---
The truth about pregnancy weight gain
While it's tempting to use pregnancy as the best excuse ever for overindulging (to pretend that the other person you're eating for is a 250 pound trucker rather than a 1 pound fetus!), it's healthier for you and your baby to keep your weight gain within the healthy range. Besides, you can't fool Mother Nature forever: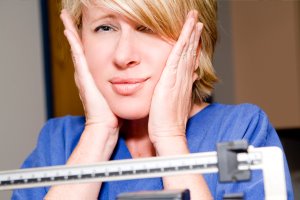 At the end of the day, you'll be forced to confront those less-than-welcome pregnancy "souvenirs" on your hips and thighs!
According to Toronto dietitian Leslie Beck, author of The Ultimate Nutrition Guide for Women, you'll find it easier to keep your weight within the healthy range if you go slow when it comes to increasing your calorie intake. Your body only needs an extra 100 calories per day during the first trimester (the equivalent of an extra piece of fruit) and an extra 300 calories per day during the second and third trimesters (the equivalent of an extra piece of fruit and an extra grain serving or two).
Learn more about pregnancy weight gain right here!
---
In real life
From the Pregnancy & Baby message boards:
I've reached that point where I just feel big. I can't squeeze through a space that I think I can. My belly is bumping into things. Some of my maternity clothes are even feeling a little snug... and I still have four months to go?!?! I'm also at the point where I'm shopping for a belly support. (I had one with my last pregnancy and it did my back a world of good.) Anyone else reached that point? - Janie
Time for more maternity wear? Get some tips here:
Sign-in
Already a member? Sign-in to access your profile and learn about the changes your baby is going through today!
Sign-in to your account »
---
Sign-up
Create your own personalized pregnancy calendar. Get day-by-day updates about your baby's progress, store notes, log doctors appointments and more.
Sign-up now »
---