Your baby this week
25 weeks pregnant
Get in line
Has a little dark line running down your belly suddenly appeared? What is that all about about?!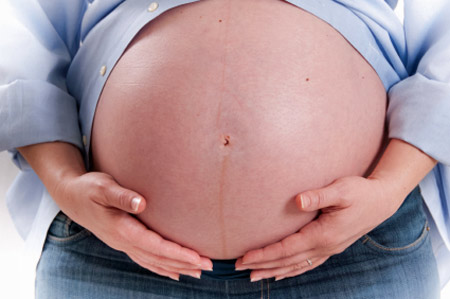 A reader asks: "I am 20 weeks pregnant, and have a line of black hair growing on my tummy from my belly button on down. My body hair (arms, legs, etc.) has always been light blonde! I haven't noticed any other strange hair growth. Is this normal, and does it mean anything as far as gender of the baby? Some people have told me it could mean I am having a boy."
Our expert answers: "It is perfectly normal during pregnancy to have a dark line that runs between your navel and your pubic area. This line is caused by pregnancy hormones and usually appears about the fourth or fifth month of pregnancy. The medical term for this skin discoloration is linea nigra, which means black line. Unfortunately, it has absolutely no correlation with the gender of the baby, so you'll have to keep guessing the baby's sex, unless you can sneak a peak during your baby's ultrasound examination!"
Read more of the explanation here in this article!
---
Pregnancy love
When it comes to sex during pregnancy, Tarzana, California Ob/Gyn and mom of three Dr Taaly Silberstein says couples need to find their own comfort levels -- together.
"Lots of things can happen to your libido during pregnancy," says Silberstein. "Some women want more sex, and some women don't want any. Remember that your mood is situational. If it's been a long day and you're tired, try to create intimacy. Make a romantic dinner, or take a weekend to get away from everything." What works for someone else may not work for you.
Dr Silberstein recommends that couples experiment together to find their own happy medium. "As long as there are no problems or complications, you can keep up what you were doing before," she says.
Her advice works well for both sexual positions and relationships: "Do whatever makes you comfortable." And while a longstanding mismatch in sex drive can be a serious problem needing professional intervention, masturbation is a perfectly good short-term solution for the partner who can't get enough.
Read more, and get perspectives from real moms on sex during pregnancy.
---
In the know
The fetal digestive system has developed enough so that now the baby can swallow amniotic fluid, absorb the water in it and pass unabsorbed matter to the large bowel. This action helps condition the digestive system to function after birth, and the amniotic fluid contributes essential nutrients to your baby.
The undigested debris from swallowed amniotic fluid in the digestive system forms meconium, a greenish-black tar-like substance that your baby usually excretes from its bowels after birth. Aww -- it's baby's first poop!
---
Want to talk? Meet other expectant moms on the Pregnancy & Baby message boards!
---
Lost mama
Actress Cynthia Watros: You might know her from The Drew Carey Show, Lost, House or years ago as the Annie on Guiding Light -- a role for which she won a Daytime Emmy for "Outstanding Lead Actress in a Daytime Drama Series" in 1998.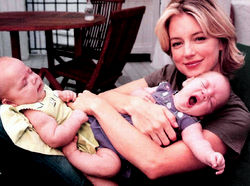 Back in 2001, we talked to Cynthia as she was preparing for a brand new role: motherhood. "When my husband and I found out we were pregnant, that was kind of a shocker," she said. "But it was time. We thought, 'This is a good time in our lives... We're at a good place.'"
Shortly thereafter, Cynthia and her husband went to the doctor for a prenatal checkup. They were told that the baby sounded great. Their doctor then sent them off to see a specialist for an ultrasound, specifically to look for some markers of Down Syndrome. Check out the rest of her amazing story here!
Sign-in
Already a member? Sign-in to access your profile and learn about the changes your baby is going through today!
Sign-in to your account »
---
Sign-up
Create your own personalized pregnancy calendar. Get day-by-day updates about your baby's progress, store notes, log doctors appointments and more.
Sign-up now »
---