Your baby this week
24 weeks pregnant
Safe and snug
The fluid within the amniotic sac creates a barrier that protects the baby from exposure to infection. It also helps pad the baby from bumps. Even if you fall, in most cases, the baby will be just fine, protected in his or her comfortable sac within your muscular uterus.
---
Baby showers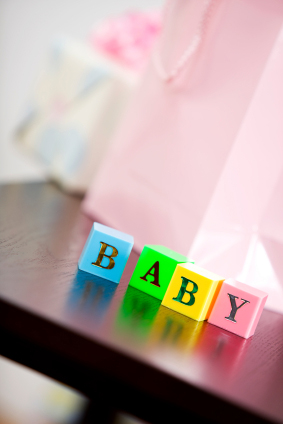 Should you have it before the baby is born -- or after?
For first-time mothers, showers before the baby arrives are great fun for her to look forward to in the last month of her pregnancy -- and she and the daddy can play and dream with all the gifts while awaiting their bundle of joy.
Mothers having their second or more children, "sprinkles" can be held before or after the baby is born. The up side of holding the shower after the baby's birth is that gifts can be chosen by the gender of the baby.
In general, the shower should be held four to eight weeks before the baby is due, or four to six weeks after birth.
---
Colostrum: What is it?
Colostrum, the slightly sticky, thick yellow fluid that your breasts start producing during pregnancy, is the perfect first food for your baby and will meet all his nutritional needs for the first couple of days until your milk comes in.
But colostrum doesn't just appear just before the baby's born -- you might discover your body's producing it months ahead of time.
A reader writes: "This is my third pregnancy. Even though all have been drastically different from each other, I am quite sure that with the past two I started 'leaking' breast liquid by now. I'm approximately 23 weeks along. Is there a set time for this to happen, or like all else, each is unique?"
Our expert answers: "There is no set time for your breasts to start leaking colostrum. Every pregnancy is different, and there is no relationship between when you start leaking, how much you leak, or even if you leak at all and the amount of milk you will produce once your baby arrives."
Get the rest of her answer here!
---
That's big!
A woman in Brazil gave birth to a healthy 17-pound baby boy in January 2005. The enormous tot, named Ademilton dos Santos, was delivered by cesearan section. His mom 38-year-old mom was diabetic, which was no doubt a major contributing factor in the baby's size at birth. Find out more about diabetes during pregnancy as well as gestational diabetes.
Sign-in
Already a member? Sign-in to access your profile and learn about the changes your baby is going through today!
Sign-in to your account »
---
Sign-up
Create your own personalized pregnancy calendar. Get day-by-day updates about your baby's progress, store notes, log doctors appointments and more.
Sign-up now »
---