Your baby this week
24 weeks pregnant
Bigger-than-average
A reader writes: "I just found out that we are having triplets. I wanted to know if the maternity clothes will be able to fit me when I get bigger and last though my pregnancy? I don't want to buy a bigger size later. I also don't want my clothes to be so tight on me that I look like a blimp or a giant pumpkin. Can you please tell me where I can find great maternity clothes that will fit me throughout the pregnancy?"
Our expert answers: "To my knowledge, there are no maternity clothes that are specifically designed for multiples. Most maternity clothes, however, are designed to allow for a wide range of growth -- some people carrying one baby, may in fact be larger than others carrying multiples! You will probably be pleasantly surprised at how your maternity clothes will expand for you.
Towards the end of your pregnancy, you may feel more comfortable in items that don't have any waistband at all, such as A-line dresses, jumpers or jumpsuits. If you prefer to wear separate bottoms, you might try something like the s waistband falls that falls under your belly, and offers additional support and won't pull across you as you grow." Get more maternity style info & ideas right here.
---
Do you want a VBAC?
VBAC means "vaginal birth after cesarean," and is a goal of many women after experiencing one C-section. If you would like to attempt a VBAC birth, find out details about your previous birth, do your research (the Internet is a great place to look), consider joining a support network (like ICAN) and then talk to your healthcare provider. The current VBAC rate is about 20%. You may be categorized as a high risk birth and will need to find a supportive caregiver.
---
One mama's VBACs
I did it! I had a VBAC! Given the ambivalence I felt about attempting a vaginal birth versus scheduling an elective repeat c-section at the beginning of this pregnancy, I am in complete awe of my capacity and endurance for the pain and rigors of childbirth.

When I first found out I was pregnant last September, I didn't even know if I wanted to consider a VBAC and my doctor seemed willing to schedule a section for me if I wanted.

Thanks in large part to the support and resources I found on-line, I found myself more and more committed to a vaginal birth and avoidance of the routine intervention pitfalls that could prevent this from happening. I am so proud and excited! - Betsy
Read Betsy' VBAC birth stories:
---
Pop quiz
Baths are unsafe during pregnancy -- true or false? The answer appears tomorrow!
---
Extra!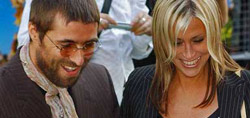 "She looks relaxed, like she's just been shopping. She said having the baby was easy, and it was easier than having a tattoo. . .I don't really want to know what sort of tattoo parlors she's been to." – Oasis' Noel Gallagher after visiting his brother Liam Gallagher and Liam's girlfriend Nicole Appleton in the hospital, after the birth of their son Gene
Sign-in
Already a member? Sign-in to access your profile and learn about the changes your baby is going through today!
Sign-in to your account »
---
Sign-up
Create your own personalized pregnancy calendar. Get day-by-day updates about your baby's progress, store notes, log doctors appointments and more.
Sign-up now »
---