Your baby this week
23 weeks pregnant
Stuffy nose?!
As if pregnancy wasn't uncomfortable enough, extra nasal congestion and getting a bloody nose are also common pregnancy complaints! These conditions are caused by changes in circulation due to hormonal fluctuations, making the mucous membranes swell and bleed more easily.
Although medications such as nasal sprays and decongestants are not recommended, you may want to try running a humidifier and increasing your fluid intake. And don't worry -- these problems should clear up once your baby is born.
---
Real-life birth story
Childbirth is an extraordinary experience, no matter how your newborn arrives into the world. And one of the best ways for moms-to-be to prepare for their own births is to hear from the real experts: other moms.
Here's an excerpt from Patty's exciting birth story...
Mike got up and called my doctor. He said to come on in but that [the contractions] could be due to being checked [earlier] that day.

I, on the other hand, was having a hard time getting dressed, as the contractions were getting worse. They were getting closer. I had gone downstairs and we were waiting on our babysitter to arrive and I noticed I was only getting a minute in between contractions to spare. The babysitter finally arrived and I went to the van. I found myself all of a sudden feeling the urge to push!

Mike got in the van and we took off. We had a 25-minute drive to the hospital and Ohio was in the middle of a windstorm! Mike was driving on the interstate going 90 miles an hour in winds that were gusting 55 to 60 miles an hour. But I wanted to push and Mike wanted to get me to the hospital. He even dialed 911 on his cell phone to have them alert my doctor that I was a lot further than they knew!
Read the rest of her exciting story here and explore more birth stories here!
---
Choosing a pediatrician for your child
When young doctors are about to go into practice, they often ask older physicians what they need to do to be successful. For many years the standard answer has been: "Demonstrate the three As."
The 3 As, in order of importance, are: ability, availability, and affability.
When you're choosing a doctor for your child, these are three essential qualities to keep in mind.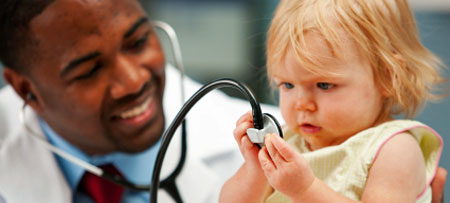 In Webster's New World Dictionary, ability is defined as "power to do [something]; talent; skill." The powers, talents, and skills your child's doctor should have can be categorized into four broad areas: prevention, diagnosis, treatment, and rehabilitation.
Click here for information on how to look for this quality in a healthcare provider for your newborn baby.
---
Expert advice: Rh factor
A reader asks: "I am 30 weeks pregnant and my doctor just told me that blood tests show that I have the Rh E antibody (IgM). What exactly is this, how is it caused, how does it affect me, and how does it affect my baby? Is there anything I can do?"
Our expert answers: "First, I'd check with your doctor to confirm that you have Rh E antibody and not Rh D, which is more common and has more treatment options available. Rh E antibody is a special marker that is sometimes found on red blood cells. It's fairly rare, but it's important to know about it because your doctor will want to monitor your unborn baby more closely. It's difficult to say how you got this antibody, but it's more commonly found in women that have had prior pregnancies and also in women who have received blood transfusions in the past." Check the rest of her answer here!
Sign-in
Already a member? Sign-in to access your profile and learn about the changes your baby is going through today!
Sign-in to your account »
---
Sign-up
Create your own personalized pregnancy calendar. Get day-by-day updates about your baby's progress, store notes, log doctors appointments and more.
Sign-up now »
---