Your baby this week
22 weeks pregnant
Your baby now
The baby is about 11-1/2 inches and weighs over a pound. His body is starting to make white blood cells, essential in fighting infection and disease.
Track your pregnancy week by week!
---
Advice and support
You can use color in a child's room like nowhere else in the house, so be creative and have fun!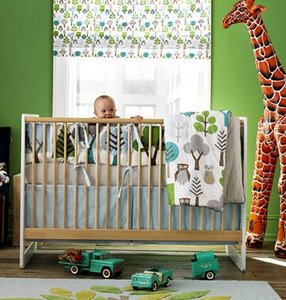 Consider painting two walls in one color, and the other two with a complementing or contrasting paint color or decorate with wallpaper. Keep the ceiling light or white to create the sense of a larger room.
Latex-based paints are best because they're easy to use, wear well, are often washable and are less toxic than their oil-based counterparts. However, even with a solvent-free paint, there are no guarantees that painting during pregnancy or around a newborn is 100% safe. Have someone else do the paintwork, and ensure the room is well-ventilated.
After the walls are done, try painting a wall mural, or use a paint effect such as stenciling, sponging or rag rolling to add interest.
---
Expert advice
A reader asks: "We just had our first baby two years ago, and we're due again in five months. Do you think we need a refresher childbirth class? What is offered at these classes?"
Our expert answers: "A refresher class will give you the opportunity to practice relaxation and breathing exercises that you may have forgotten. You may also learn some new labor coping skills. You will get a quick overview of the birth process and procedures. You will be able to ask any questions that you may have about your upcoming birth and about things relating to your last birth."
Read more of the answer right here!
---
Fashion

It's one of those little Hollywood beauty "secrets" that everyone knows, but doesn't usually talk about. like liposuction, facelifts, or the fact that double-sided tape can be used artfully to create cleavage to die for. Heels. No, not their mere existence, but the fact that many women keep on wearing stiletto pumps, stacked-heel boots, wedge and even platform shoes during the nine months of pregnancy. (See actress Jenna Elfman at right for but one example.)
"I am wearing heels -- the highest heels," admitted Leslie Zemeckis, a California model, actress and wife of producer/director Robert Zemeckis (Back to the Future, Polar Express). "I love heels, and they're still comfortable. I was buying shoes -- spiked but not flimsy, very sturdy -- and was getting the funniest looks from other women," she laughs.
Find out the secrets behind wearing your favorite heels during pregnancy here -- and see the latest maternity styles at PregnancyFashion.com!
---
Thinking ahead
In the old days, young women grew up seeing their family members and friends nurse. In today's society, many women have never seen anyone nurse a baby. The idea of taking classes or reading books to learn about breastfeeding would have made our great-grandmothers laugh, but in today's world, it makes sense to learn as much as you can about breastfeeding before your baby is born. If possible, attend a prenatal breastfeeding class and attend La Leche League meetings during your pregnancy.
One thing is for sure: childbirth and breastfeeding are two experiences that no amount of reading, attending classes or watching videos can really prepare you for. What they mostly do is tell you about what the "average" birth experience or the "average" breastfeeding experience will be like. You need to remember that your baby hasn't read those books or taken those classes," and he doesn't have a clue that he is supposed to behave like the "average" baby.
Get some more advice on how to successfully establish your milk supply here.
Sign-in
Already a member? Sign-in to access your profile and learn about the changes your baby is going through today!
Sign-in to your account »
---
Sign-up
Create your own personalized pregnancy calendar. Get day-by-day updates about your baby's progress, store notes, log doctors appointments and more.
Sign-up now »
---