Your baby this week
21 weeks pregnant
Hot or not?
How's your sex life? There's no hard and fast rule (pun intended) about how moms-to-be feel about "doing the deed" during pregnancy, but here's what three P&B readers had to say:
My husband can't keep up with me! We have always been very frisky, but I'm even more so now. I even wake him up in the middle of the night to "play" sometimes. (Since I can't sleep anyway, why not have a little fun?) - Nikki
My husband has had a hard time with the fact that there is a baby in there. It took him a while to talk to me about it, but feels better now that he did. I'm just hanging in there, hoping he doesn't go through the "I see you as my baby's mother, not my lover" phase after the baby is here. - Kimberly
Things have slowed down a lot (for me at least). I can't get comfortable in any position [so] I don't find it as pleasurable as before. We still do it daily at least, but not for my sake. I just want to keep him happy. He has offered to just stop all together, [but] there isn't any reason for both of us to be unsatisfied. So I just let him pleasure himself, and then we stop. - Chivas
---
Want to talk? Meet other expectant moms on the Pregnancy & Baby message boards!
---
Naming notes
Names can be fun, sure, but don't go too cutesy. Rhyming names (Joey Bowie), repetitive names (Don Donalds, Christine Christianson), and "funny ha ha" names (the list here is endless) aren't fair. Your child probably will be teased endlessly by kids — and may not be taken too seriously by adults. (As a side note: Dick is just not an acceptable nickname anymore. Sorry. Try Rick or Rich if you're looking to shorten Richard.)
Search for baby name meanings, top trends, celeb names and lots more right here!
---
Quick fitness
P&B reader Graciela asks: "I have about 15 minutes a day that I can exercise. What should I do to get the most return on my time?"
Fitness instructor Lisa Stone, ACE answers: If you're planning to exercise for 15 minutes every day, then I suggest alternating aerobic activity with strength training exercises.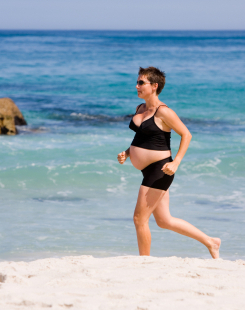 For example, on Monday, Wednesday and Friday, go for a 15-minute power walk using a short stride and pumping your arms to boost intensity. On Tuesday and Thursday, do seven and a half minutes of strength training exercises for your upper body and seven and a half minutes of strength training exercises for your lower body and abdominals. You can use either light hand weights or just some big cans from your pantry for resistance.
For your upper body, do one to three sets of 12–15 bicep curls, tricep extensions and shoulder raises. For your lower body, do one to three sets of 12–15 squats and lunges. For your abdominals, good ol' fashioned crunches are the most effective exercise. Be sure to stretch thoroughly after each workout session to prevent muscle soreness and injury.
---
Birth day poll
We asked P&B readers: Who, in addition to your coach, do you want at your birth?
Nobody else: 49%
Mother: 33%
Sister or friend: 18%
Have your say: Vote in P&B polls here!
Sign-in
Already a member? Sign-in to access your profile and learn about the changes your baby is going through today!
Sign-in to your account »
---
Sign-up
Create your own personalized pregnancy calendar. Get day-by-day updates about your baby's progress, store notes, log doctors appointments and more.
Sign-up now »
---