Your baby this week
20 weeks pregnant
A nursery with zing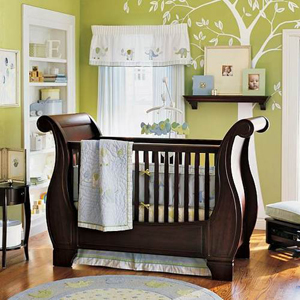 Want to liven up the walls in your baby's room? You have more fun and flexible options than ever!
Easy-to-apply self-adhesive removable decals and wall stickers are widely available, and feature a variety of styles -- from cute characters to classic design motifs to retro-style graphics.
Get more ideas here: Do's and don'ts of creating your first baby nursery
---
Make a note
Always wear your seatbelt -- you and your baby stand a far higher chance of being hurt in an accident if you are not wearing one. Get the specific how-tos here:
---
Hair today
Pregnancy changes your entire body, and your hair is no exception.
If your mane seems to change texture -- from straight to curly, from full to limp -- or won't take a perm, that's because the pregnancy hormones also affect the very structure of your hair. They get to the cortex, which is responsible for giving hair its curl and elasticity.
According to one mom of a 17-month old baby boy, "About three months into my pregnancy, my hairdresser pointed out that my hair seemed thicker and curlier than before. And I had always had rather fine, straight hair."
Read on for more info on what your hair is up to right now!
---
Back down
Is your back starting to bother you? You aren't the only one with this problem.
During pregnancy, your ever-expanding body releases hormones that cause the joints and ligaments of your pelvis to loosen in preparation for childbirth. Then your growing bump changes your center of balance, resulting in an increased lumbar lordosis, or arch, in your back. This also means that the muscles that support your back have a much larger load to carry, and fatigue more quickly.
What can be done about it? Studies have shown that the pelvic tilt can significantly lower your pain, especially in the third trimester. The exercise is easy and requires no fancy equipment -- only a chair! Sitting upright with your feet shoulder width apart on the floor, tighten your stomach muscles, flattening your back into the back of the chair. Hold 5 seconds and perform 20-30 times. (This exercise can also be done standing, flattening your back against the wall.)
Click here for more back pain help!
---
Want to feel better?
Still looking for help with some of the aches and annoyances of pregnancy? We have more ideas for you: More aches and pains of pregnancy
Sign-in
Already a member? Sign-in to access your profile and learn about the changes your baby is going through today!
Sign-in to your account »
---
Sign-up
Create your own personalized pregnancy calendar. Get day-by-day updates about your baby's progress, store notes, log doctors appointments and more.
Sign-up now »
---