Your baby this week
20 weeks pregnant
Your baby now
Your baby drinks the amniotic fluid, and is beginning to absorb some of it through his still-maturing digestive system. He will excrete it back into the amniotic sac where the placenta constantly filters the fluid.
Track your pregnancy week by week!
---
How parenthood changes you
As a pregnant couple, you're on a roller coaster like no other. But what you may not realize is that even as you near the end of your last trimester, you're still merely chugging your way up to the peak. The heart-pounding free fall, the thrilling twists and turns and the exhilarating corkscrews are still ahead.
Bliss in babyland
Prepare to be forever transformed as you plummet your way into the adventure of parenthood. No matter how much reading you've done or how well documented your birth plan, it's nearly impossible to fully prepare for the intensity of labor and delivery, and for finally holding that long-awaited new baby in your arms. New moms feel wondrously mighty, and new dads bubble over with tears of joy.
"There's nothing more empowering than giving birth to a baby," says Beth Riordan of Chicago, Illinois. "It's so amazing. Your body knows just what to do. Part of me felt like a spectator of this beautiful event."
Read more here about how parenthood will change your life!
---
Baby #2 (or more)
Anticipating the arrival of your second child is a greatly different experience than that of expecting your first baby.
Physically, subsequent pregnancies tend to be far less restful. Intellectually, you're well advised and wiser this time around. You've experienced childbirth and mastered diaper changing along with all the other basis of baby care. Emotionally, you experience daily the profound sensibility and endurance that come with being a parent.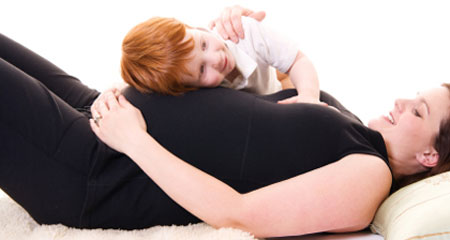 Worry about the big sib
This time, many of your concerns may still be largely focused on your firstborn. Will my child be jealous of the new baby? Will he or she regress developmentally after the baby arrives? Will my first child be helpful or will he or she cause harm to my new little one? Whether, you're about to adopt or give birth, chances are you have some worries about how your first child will react to becoming a big brother or sister.
Click here for ideas and tips for helping everyone prepare for your newest arrival!
---
Want to talk? Come on over and meet other expectant moms on the Pregnancy & Baby message boards!
---
A mother's love perceives no impossibilities.
- Paddock
Sign-in
Already a member? Sign-in to access your profile and learn about the changes your baby is going through today!
Sign-in to your account »
---
Sign-up
Create your own personalized pregnancy calendar. Get day-by-day updates about your baby's progress, store notes, log doctors appointments and more.
Sign-up now »
---