Your baby this week
19 weeks pregnant
Nursery planning
Decorating baby's nursery is such a fun tradition!
There are hundreds of different themes you can choose when decorating your baby's room -- from warm and cozy, with wooden furniture and rich yellow hues yellow -- to bright and bold, with white furnishings and bursts of vivid colors throughout.
Have a good look around several different stores and through a few catalogs before buying anything. As you look, you'll probably find yourself attracted to variations of the same theme over and over. This gives you a place to begin, though keep in mind that personal attention, imagination and inspiration is far more important -- and often less expensive -- than having any one theme continued perfectly throughout the room.
Read more tips in Your baby's room at our SheKnows site!
---
Ideas & inspiration
A mother's love is like a circle, it has no beginning and no ending. It keeps going around and around ever expanding, touching everyone who comes in contact with it. Engulfing them like the morning's mist, warming them like the noontime sun, and covering them like a blanket of evening stars. A mother's love is like a circle, it has no beginning and no ending.
- Art Urban
---
Double cousins
In March 1998 in Israel, twin sisters delivered healthy baby boys an hour apart. The boys were said to look a lot alike, which makes sense given that their fathers are also brothers!
---
What are supertwins?
Beyond twins, supertwins are triplets or more. As these multiple pregnancies are quite different than singleton births, if you're expecting supertwins, you'll want to have support and information from experts and other parents who have real-life advice and information.
Resource tip: Mothers of Supertwins (MOST) is an international non-profit support network of families with triplets and more. MOST provides information, resources, empathy and good humor during pregnancy, infancy, toddlerhood and school age. Also see the book The Joy of Twins and Other Multiple Births: Having, Raising, and Loving Babies Who Arrive in Groups.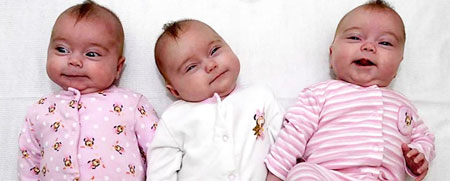 What about identical supertwins?
Commonly, tripets, quadruplets and other higher order multiples are fraternal. Identical supertwins, resulting from just one fertilized egg, are extremely rare. In January 2008, Carmela Testa, a midwife in the UK, gave birth to naturally-conceived identical triplet girls (pictured above). The odds of such a birth is around 200 million to one!
---
Advice & support
When you're pregnant, you sometimes become the center of attention at family functions or get-togethers. People will flock around you, drowning you with affection and attention and sometimes it can get to be too much.
It's perfectly fine to find a place to retreat and take a little time for yourself to regroup. If the get together is at someone else's home, call them a day or two before and ask them if there is a place where you can go and rest for a little while if you feel the need to. There is sure to be an extra bedroom or a den where you can put your feet up and rest for a little while to help rejuvenate your senses so you can quickly get back to the party. Click here for more fabulous tips on how to take care of you!
---
Want to talk? Come on over and meet other expectant moms on the Pregnancy & Baby message boards!
Sign-in
Already a member? Sign-in to access your profile and learn about the changes your baby is going through today!
Sign-in to your account »
---
Sign-up
Create your own personalized pregnancy calendar. Get day-by-day updates about your baby's progress, store notes, log doctors appointments and more.
Sign-up now »
---