Your baby this week
19 weeks pregnant
Celeb twin babies
Some celebrities who have had twins: Brad Pitt and Angelina Jolie (Knox and Vivienne), Rebecca Romijn and Jerry O'Connell (Dolly and Charlie), Garcelle Beauvais-Nilon (Jax and Jaid), Jennifer Lopez and Marc Anthony (Max and Emme), Ricky Martin (Valentino and Matteo), Julia Roberts (Phinneaus and Hazel), Charlie Sheen (Max and Bob), Marcia Cross (Eden and Savannah), Dennis Quaid (Thomas and Zoe), and Sean Combs (D'Lila and Jessie).
Keep up with the latest Hollywood moms and dads at CelebrityPregnancy.com!
---
Motivation for fitness
How can you get motivated to exercise? Hopefully, now that you're in your second trimester, you have a little more energy. Lisa Stone, an ACE-certified Pre-and Post-Natal Fitness Instructor, has some tips to get you up and moving!
She says, "Lack of motivation is a very common barrier to exercise, so my suggestion is to set small goals for yourself and gradually work into exercise." Click here for her easy-to-remember tips!
---
PJ question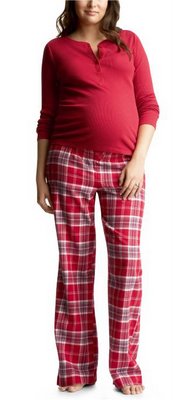 The question: "I am looking for some comfortable sleepwear during pregnancy. I usually wear my husband's t-shirts, but have outgrown those! I am also very sensitive about seams pressing against me since I always have to sleep on my side now. Any ideas to help me get a good night's sleep?"
Read on to find out where you can get maternity sleepwear.
---
Relax, Mom!
Pregnancy is the perfect opportunity to spend time in a little self-indulgence. After all, it won't be long before most of your time is spent caring for your little one. If you've never stepped foot in a spa, now is the time! You will be pampered, primped and relaxed into a state you never knew existed.
Click here to read more hints on how to get the most out of your pregnancy spa visit.
---
Vite it up
Keep taking your prenatal vitamins -- but don't, however, take extra vitamins in addition to those without prior approval of your caregiver. Vitamin C and E supplements do not lower the risk of pre-eclampsia -- a high blood pressure disorder of pregnancy, says a 2006 medical study. The researchers also found that vitamin C and E supplements might, in fact, increase the rate of low birthweight babies. Find out more and get more tips on taking prenatal vitamins here.
Sign-in
Already a member? Sign-in to access your profile and learn about the changes your baby is going through today!
Sign-in to your account »
---
Sign-up
Create your own personalized pregnancy calendar. Get day-by-day updates about your baby's progress, store notes, log doctors appointments and more.
Sign-up now »
---