Your baby this week
18 weeks pregnant
Spa-ahh
Have the urge to take a mid-pregnancy getaway? How about a relaxing, indulgent trip to a spa? Whether you have a quick visit or try out a day spa, try a facial, a back massage, a manicure or a soothing foot massage. Many spas offer massages that make use of special pillows with a belly cutout, so you can comfortably lie on your stomach for a while while being massaged.
To find out more, check out Just say spahhh: Spa DOs and DON'Ts during pregnancy. (Or, if you want to create the experience at home, see this article: Take a mama spa day.)
---
Preggo - not fat
You're pregnant -- and you want the world to know! So when are people going to stop saying, "Is she getting fat?" and start saying, "Oh, she's pregnant!"?
The answer: It varies. "When expectant moms start to show depends on what kind of shape the mom is in before she gets pregnant and how many times she has been pregnant," says Kenneth Johnson, DO, an assistant professor of obstetrics and gynecology at the College of Osteopathic Medicine at Nova Southeastern University in Ft Lauderdale, Florida. Read more here!
---
Tummy tattoo?
If you have a tattoo on your belly, you may wonder what pregnancy will do to it. Six moms told us what they're finding out:
"I have a little one about 1.5 to 2 inches to the right of my belly button. It's not very big. Originally size was about 1.5 inches long and maybe 1 inch across. It's a small black tribal design with a single purple rose in the middle. I love my tattoo and I still do. It has stretched a little, but thank God, not much!" - Misty ...
Click here to read what the other five moms had to say, and also see: Can you leave your piercings in while pregnant?
---
Nutrition notes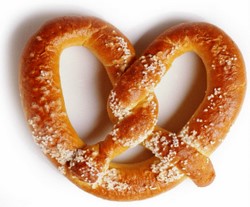 Sometimes pregnant women crave salty foods, and this isn't all bad. During pregnancy yoursodium requirements do increase somewhat, but that's not a good reason to go salt crazy. Too much sodium can cause pregnancy swelling and preeclampsia. Plus many of the foods that women crave with extra salt (like pretzels and potato chips) have extra calories you don't need and lack the nutrients you do need to build a healthy baby.
What to do if you're having salty cravings? Here's one solution!
---
Casting call!
It's still early, but have you thought about making a belly cast? It's an amazing way to memorialize your pregnant shape! Photos and video just can't capture your shape in three dimensions the way an easy, fun-to-make belly cast can. Read more about belly casting here.
Sign-in
Already a member? Sign-in to access your profile and learn about the changes your baby is going through today!
Sign-in to your account »
---
Sign-up
Create your own personalized pregnancy calendar. Get day-by-day updates about your baby's progress, store notes, log doctors appointments and more.
Sign-up now »
---