Your baby this week
18 weeks pregnant
Take me on a sea cruise
Are you thinking of taking a cruise during your pregnancy? A cruise can be a great getaway for a couple before the birth of a child. And with food and beverages covered -- at least on the water and juice end of things -- it's an easy way to get away with a predictable, fixed cost of travel! However, if you are pregnant, there is more to consider than balcony or no balcony. Read on: Cruising while pregnant
---
Pink or blue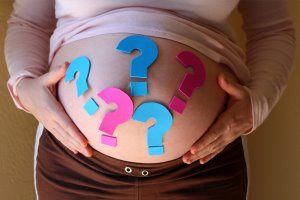 Just because you want to find out if you're having a boy or a girl doesn't mean your baby will cooperate!
Says SheKnows message board member suprisebaby5 of her 20-week sonogram: "I had my ultrasound and the tech said not to paint pink or blue since the baby is currently breech and they can't see the genitals. They can look from behind/under the bottom but not in front. She said she guesses a girl since can't see anything -- but she said it is truly a guess since all it takes is for the penis to stick up by the umbilical cord and then they can't see it."
Read more in the article: Is it a boy? How an ultrasound can tell.
---
Stay-at-home motherhood?
No doubt about it, babies can be costly! Quitting your job or taking an extended maternity leave in conjunction with having your baby may seem impossible on top of new baby costs.
Here are some ideas about how to plan for staying home with your baby… Oh, and I hope this goes without saying, but planning all of this before your baby arrives is SO much easier than waiting until after.
>> Can you afford to stay home with your baby?
---
Food cravings: Fact or fiction?
And where does that craving for pickles and ice cream come anyway? While hard facts about food cravings can be a little difficult to pin down, there have been a few studies done over the years about food cravings and food aversions during pregnancy. (Food aversions are, of course, the flip side of food cravings -- those foods you simply can't imagine ever wanting to eat again!) Here's what some of the key studies have revealed.
>> Don't obsess about pregnancy weight gain
---
In the know
Childbirth education provides an opportunity for expecting mothers and their support person to have special focused time on the pregnancy.

It makes you take time out of your busy life to think about and learn about what is to come. Remember, you cannot make informed decisions for you and your baby around labor, birth, breastfeeding, circumcision, and so forth unless you take the time to get informed.
Now, once you have the information it is in part up to you as to how successful you will be in following through with your plans. Have you chosen the right provider? Do they support your goals? Will they give the nurses in the hospital (if you plan to birth in a hospital) permission to utilize the strategies and avoid the interventions you have discussed in your birth plan?
Sign-in
Already a member? Sign-in to access your profile and learn about the changes your baby is going through today!
Sign-in to your account »
---
Sign-up
Create your own personalized pregnancy calendar. Get day-by-day updates about your baby's progress, store notes, log doctors appointments and more.
Sign-up now »
---