Your baby this week
17 weeks pregnant
In the know
The baby's body is covered with fine, downy hair, called lanugo. Many babies will lose much of this hair before birth, but if your baby is born with it, most of it will be shed in the first week.
How does your baby grow? See the stages week by week!
---
"Seeing" your baby
Millions of ultrasounds are performed each year, usually to rule out certain disorders or problems. For many parents, the ultrasound is a memorable first contact with the little one (or little ones) inside. And while the pictures are great to have, it can be hard to tell what you're looking at. Check out these ultrasound images of babies at various stages of development!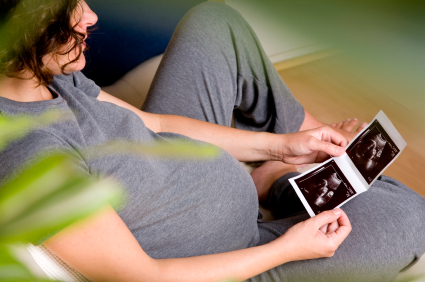 ---
Tight is right
Keep practicing your Kegel exercises -- a tightening of the vaginal muscles like you would do stopping the flow of urine mid-stream. Start slowly, but work your way up to two sets of ten, holding each Kegel for ten seconds each. The great thing about these exercises: you can do them anywhere -- driving, at your desk, even at a movie!
Incorporate these important exercises into your day, like mom-to-be Afke, who said, "I usually do my Kegels while in the car. On my way to work or aerobics class (and back), I always get held up by at least one very long train, and I usually do a set while waiting for it to pass. That way, I get about four sets of Kegels a day done."
Read more about how and why to do your Kegels here!
---
Want to talk? Meet other expectant moms on the Pregnancy & Baby message boards!
---
Style points
Just can't find anything you want to wear? See some great online maternity shopping and advice at our PregnancyFashion.com site!
Here's a question from one of our readers: "I've gained weight all over during my pregnancy. What necklines will work best to minimize the gain in my face?"
Our expert answered: "When it comes to necklines, stay vertical. Styles that draw the eye down instead of out are the most flattering. Steer clear of horizontal stripes, elongated boatnecks or deep scoops. Instead, choose a neckline that stretches the eye vertically -- for example, a simple V neck, a collared buttondown or one of the mock crossovers that forms a V at the center of the chest."
---
Make a note
If something happened to you, who would care for your child? Have you nominated a guardian in your will?
As a parent, you are the natural guardian of your child. You are responsible for the care, education and supervision of your child. If both parents are deceased or unable to care for their children, a guardian must be appointed by the court to take custody of the children and provide for their needs.
The only way parents can have a say in the choice of a guardian is by nominating one in a will. If you do not appoint a guardian in your will, the court must decide without the benefit of your opinion, who will do the best job of raising your children.
Find out more this attorney has to say about about guardianship in this article.
Sign-in
Already a member? Sign-in to access your profile and learn about the changes your baby is going through today!
Sign-in to your account »
---
Sign-up
Create your own personalized pregnancy calendar. Get day-by-day updates about your baby's progress, store notes, log doctors appointments and more.
Sign-up now »
---