Your baby this week
16 weeks pregnant
Feeling your baby move?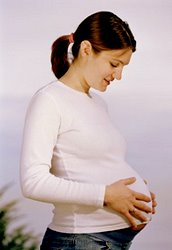 There are few things in the world as exciting as feeling your baby move inside your belly! Although your little one has been moving and kicking for many weeks, only at about week 16 can you really start to feel those wiggles -- often called "quickening." Still, some women report feeling movement much earlier, while others don't notice the movements until 20 weeks of pregnancy or later.
In general, first time moms take longer to feel those precious kicks than moms who have traveled the pregnancy road before. Alisa says, "It feels very, very gentle, and it's like someone pushing your abdominal wall from the inside. It's becoming quite recognizable and pretty easy to distinguish from gas. I hope I'm not fooling myself but I think that's really it! I'm so psyched!"
To read more about feeling your baby move, click here.
---
The weird side of pregnancy
Author Dianne Cooke writes, "Tick... tick. That was the sound my uterus made. Once a day or so, a loud tick would sound from my belly. "What is it?" I demanded of my midwives, who actually heard it once, but they couldn't offer a clue. If only I'd just asked about swollen ankles, or nausea, or fatigue -- everyone knows what to do about those. But what made me tick?"
To read some more interesting and downright odd things that can happen during pregnancy here.
---
Ideas and inspiration
The kernel, the gist, the essence of nurturing yourself during pregnancy is treating yourself as if you were in the womb. Believing you have the right to be cared for by others, to be supported. Understanding how frightening and exhilarating it can be to open yourself to the new identity growing inside you: the identity of you as a mother. Grasping that you're in the midst of one of the biggest life transitions you will ever experience, and at the end of this transformation, you are going to be called upon to do more giving than you ever have, and for an extended period of time (motherhood is about endurance).

- Jennifer Louden
---
Homebirth cheat sheet

One likely reason more women don't opt for homebirth is the wealth of misinformation that circulates about it. Add to that society's disapproval of anything outside the norm, and you have a recipe for more hospitalizations and the continuing belief that birth is, and should be treated as, a medical event.
So if you've decided, after careful investigation and research, that homebirth is the right choice for you, you may still need to convince those around you of the sanity of what you're doing.
This "cheat sheet" gives you some of the most common questions and arguments against homebirth -- and the answers you can give.
---
Planning ahead
When you're evaluating your out-of-home childcare options, it's important to consider how well -- or how poorly -- each childcare center or home daycare will meet the needs of your child. Here are some suggestions from Ann Douglas, author of the book The Unofficial Guide to Childcare, from her article In Search of Mary Poppins:
Infants (ages birth to eighteen months) thrive in environments in which there is a low caregiver-child ratio (ideally 1:1 but no more than 1:3) and a small group size. Because they need to have the opportunity to build strong attachments to their caregivers, they should be cared for by the same caregiver day after day. These caregivers should genuinely love babies and should be prepared to respond to their needs as quickly and effectively as possible.
Sign-in
Already a member? Sign-in to access your profile and learn about the changes your baby is going through today!
Sign-in to your account »
---
Sign-up
Create your own personalized pregnancy calendar. Get day-by-day updates about your baby's progress, store notes, log doctors appointments and more.
Sign-up now »
---