Your baby this week
16 weeks pregnant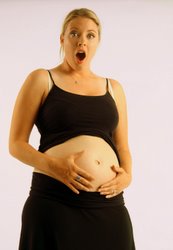 Did you hear that?!
Have you heard a weird noise coming from your pregnant belly? Maybe a snap, crackle or a pop -- or a tick or a click? (No, we're not kidding — a lot of women do hear such things.)
Unfortunately, we have not been able to figure out what exactly the noise is caused by… so the only solace we can offer is that you're not alone!
>>> My belly is making some strange noises. What is going on?
---
Double the food?
How do your nutritional needs change when you're carrying twins or more? When you're eating for three or more, you need to be sure that you're getting the nutrition you and your babies need! And do you need to make changes to your fitness routine? Click here for the answer.
---
Don't be chicken
If you're around kids at all during your pregnancy -- whether at home, at work or just at the grocery store -- you might get exposed to chicken pox.
Chickenpox is caused by the Varicella zoster virus and is usually mild -- but it may be severe in infants, adults and persons with impaired immune systems. However, according to the Minnesota Women's Health Consortium, it is possible to have a titre drawn (blood test) to determine your immunity. Short of that, "Since chickenpox is easily transmitted, pregnant moms who are not immune should, if possible, stay away from infected persons."
If you haven't already had the virus or been immunized against it, there's a 90 percent chance you will get this highly contagious bug (if exposed to an infected family member), according to William Cusick, MD, associate director of maternal-fetal medicine at Stamford Hospital in Stamford, Connecticut. Chickenpox is highly contagious, and an estimated 4 million cases occur each year. The virus spread from person to person by direct contact, or through the air.
---
Watch your water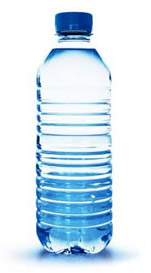 Water bottles -- on the desk, in the car, with you wherever you go -- have become commonplace. But did you know that, in addition to the water our bodies need, your always-at-hand bottle might also carry bacteria and other toxins?
While the water found at the tap is often as good as that found in bottled water, refilling and reusing bottled water bottles over and over may create an opportunity for unwanted bacteria and toxins. To learn more about keeping your water healthy, click here!
---
Make a note
Yep -- another reminder: Be sure to keep up the Kegel exercises. These will help you during the pushing stage of labor and will also decrease the possibility of stress incontinence (occasional leaks of urine) during late pregnancy and after the baby is born. Nobody likes a "surprise" everytime they sneeze or cough!
Sign-in
Already a member? Sign-in to access your profile and learn about the changes your baby is going through today!
Sign-in to your account »
---
Sign-up
Create your own personalized pregnancy calendar. Get day-by-day updates about your baby's progress, store notes, log doctors appointments and more.
Sign-up now »
---