Take the AvoDerm Challenge!
See a softer, shinier coat in just 6 weeks. Guaranteed!


AvoDerm® is asking pet lovers to take the AvoDerm Challenge to see a softer, shinier coat in just 6 weeks. Guaranteed!  AvoDerm® Natural premium dog and cat food formulas are loaded with high quality meat proteins, rich in omega 3 and 6 fatty acids from natural avocados and completely balanced for the total health of your pet. Everyone who signs up for the AvoDerm Challenge gets a $5 coupon and the opportunity to enter AvoDerm's sweepstakes for a chance to win a year's supply of AvoDerm.
AvoDerm wants to help you give your dog or cat a softer and shinier coat:
Switch your dog or cat to AvoDerm and see guaranteed improvement in just six weeks!
Everyone who signs up here receives a coupon for $5 OFF your first bag of AvoDerm Dog Food
Complete the Challenge for a Chance to WIN a Year's Supply of AvoDerm!
Open to legal U.S. residents 18 and up. Entries must be received by 7/19/13 11:59 pm (PDT)
View the Official Contest Rules & Regulations for more details.
To celebrate the AvoDerm Challenge one lucky winner will receive a $150 Visa Gift Card, a 4.4lb dry dog food (or cat food), 4 adult cans of dog food (or cat food), and AvoDerm Coupons!
Things to remember when introducing AvoDerm to your pet: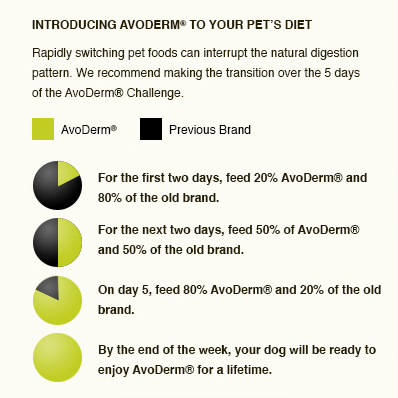 Enter now for your chance to win the AvoDerm Challenge Giveaway!
Entries are unlimited.