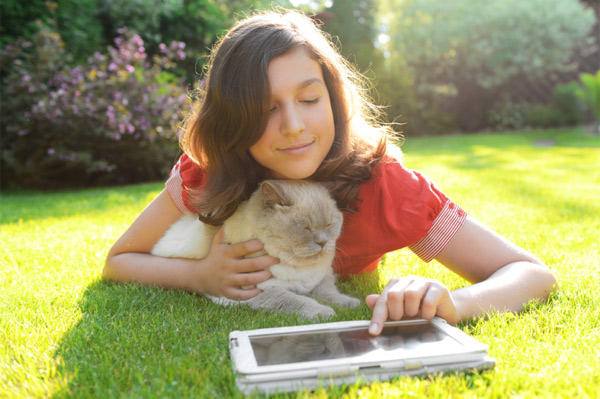 Purr-fect Playtime
Entertain yourself and your cat with these purr-tastic iPad games. Guaranteed for hours of fun, your kitty may never want to return your iPad after he indulges in this technological fun designed just for him.
Price: $1.99
With Catch and Paint Games for Cats, your cat can do just that: catch, paint and even play an instrument. With a catch aspect of the app, your kitty has the choice to catch a mouse, spider, goldfish or butterfly — all with interactive music to coincide with the "catching" fun. In the paint portion, your cat can paw away while painting in a variety of colors. And finally, your kitty can also play instruments with other kitty players.
Price:  Free
Featured in Animal Planet, this app will have kitties meowing for more action. Your cat can advance as he chases butterflies, catches mice and paws at a laser. Make him purr by activating the sound and releasing the mouse for advanced levels. Your kitty will even be able to share his high score with Facebook and Twitter friends.
Price: $1.99
In the Paint for Cats app, your kitty has a wide variety of color palettes to paint a beautiful picture for your refrigerator. Cats are thoroughly entertained as a mouse darts across the screen, helping the cat to "paint." A squeaking mouse makes kitties purr over this interactive paint app.
Price:  $1.99
Catzilla is an app that you may want to play just as much as your kitty. Help the cat of the house play Godzilla as he saves the city by battling jellyfish monsters, dragons and more. Knocking down any buildings between his paws, this game is a hit with kitties everywhere.
Price:  Free
Save money on your next trip to the pet store by purchasing this app for your favorite feline. Your cat can control its new favorite pink mouse toy by pawing it around the screen. Responding to touch, this mouse will attempt to make an escape while squealing around its box.
Price:  Free
This app made exclusively by Friskies is for kitties that love to fish. With swimming fish, your cat can "catch" fish with his paws. The more fish he catches, the more points he gains. Put your iPad in front of your kitty and watch him paw the day away with this fun app.
Price: Free
Like Friskies Cat Fishing game, Jitter Bug has the same concept. However, instead of catching fish, kitties are urged to catch neon bugs. With a regular and advanced game, kitty can improve his skills on bug catching, therefore saving costs on an exterminator.
Price:  Free
Another Friskies app, this iPad game is great for cats that are looking to perk up. With various cat-favored sounds, cats will love hearing chirping birds, kitty meows, a triangle and more. Although your kitty may adore the sounds coming out of your iPad, they may not be as appeasing to his mama.