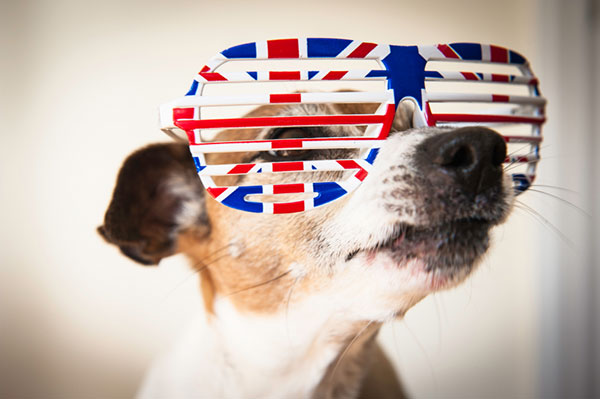 Funny pet names from across the pond
British television, especially comedies, have been increasing in popularity since they began playing on PBS and BBC America. If you're a fan of the U.K.'s dry humor and wacky characters, keep them as close to your heart as you do your four-legged sweetie.
Mr. Humphries
Fans of Are You Being Served? probably remember with fondness the flamboyant Mr. Humphries, brought to life by beloved actor John Inman. Whether you loved his "ambiguous" gender preferences, catty one-liners or just hearing the sound of "I'm free-e-e-e-e-e!" when a strapping male customer needed assistance, Mr. Humphries is a spot-on name for your aloof kitty.
Other names inspired by British comedies set in the workplace:
Granville (Open All Hours)
Basil or Sybil (Fawlty Towers)
Tamsin (Black Books)
Pleck (The Job Lot)
Tinsley (The Office)
Twinkle (dinnerladies)
Herr Flick
Normally, it's considered bad form to name your animals after members of the Gestapo, but everyone can make an exception for Herr Flick — the limping Major of the Nazi secret service in the hilariously funny 'Allo 'Allo. We think it's a cute name for a min pin or other small, sassy dog.
Other names inspired by war-themed British comedies:
Helga ('Allo 'Allo)
Godfrey (Dad's Army)
Baldrick (Blackadder)
Dougal
Father Dougal McGuire, bless his soul, wasn't the brightest crayon in the box. But his good heart and penchant for causing Father Ted (whom the series was named after) trouble makes him one of the most endearing characters wearing a clerical collar to grace the screen. Your pet may be dimwitted, but you love him just as much.
Other pet names inspired by British clergy comedy:
Dibley (The Vicar of Dibley)
Gittins (Keeping Up Appearances)
Duddleswell (Bless Me, Father)
Smallbone (Rev.)
Noote (All Gas and Gaiters)
Pickle (The Vicar of Dibley)
Del Boy or Trotter
Only Fools and Horses follows the miscreant misadventures of the Trotter brothers, Derek "Del Boy" and Rodney, who are always cooking up a new way to become overnight millionaires. If you're convinced your pet is constantly hatching the latest scheme to get extra treats, there's not a more appropriate namesake.
Other names inspired by nefarious British characters:
Appleby (Yes, Minister and Yes, Prime Minister)
Blackadder (Blackadder)
Helga ('Allo 'Allo)
Onslo
From the classic comedy Keeping Up Appearances, Onslo was a sloppy foil to Hyacinth Bucket's constant need to have people think she was wealthy and well bred. If your big, dopey dog makes a mess everywhere he goes and has bad doggie habits that make you blush when company's over, he's definitely an "Onslo."
Other names inspired by classic British comedy characters:
Ballard (Waiting for God)
Saffron (Absolutely Fabulous)
Clegg (Last of the Summer Wine)
Alistair (As Time Goes By)
Balowski (The Young Ones)
Mr. Bean (Mr. Bean)
Lyndhurst (Goodnight Sweetheart)
Polouvicka (To the Manor Born)
Real people
There are some Brits who may or may not have played fictional characters, but they're hilarious nonetheless.
Amstell (Simon Amstell)
Gervais (Ricky Gervais)
Pinkerton (Karl Pinkerton, An Idiot Abroad)
More pet name inspiration
Magical pet names inspired by Harry Potter
Pet names inspired by sci-fi
Pet names inspired by cult films