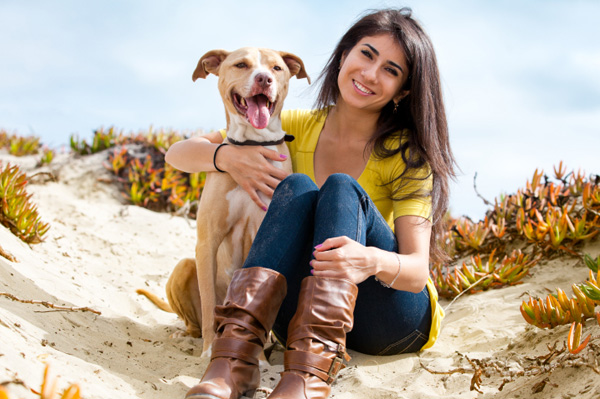 New outdoor games for your pet
When the weather forecast calls for sunshine and blue skies, don't settle for a dull day at the park. Even Fido gets bored of the same tired game of frisbee and fetch. Trying out new activities with your furry best friend provides excellent bonding opportunities while supporting good health habits. Keep your pooch on his toes and enjoy the great outdoors with fun new games both you and your pet will love.
Do you have a pooch that passed basic obedience with flying colors? Challenge his mental muscles with an outdoor obstacle course. Turn your backyard or dog park into Rover's paradise with a homemade course built just for your smart pup. Using creative household items like hula-hoops and bounce balls (perhaps that old stability ball you never use?) mixed with Mother Nature's goods like tree branches and stumps, your pet's dream course is only a vision away. Spend a sunny afternoon bonding with your best friend by leading him through the obstacle course and learning new tricks.
Breeds that will love this: Border collies, poodles and Australian shepherds.
For the four-legged fish in your life, take a game of fetch to buoyant proportions. A day-trip to the lake is just what you and your fur-baby need on a sunshine-filled day. Grab your pet's favorite water toys, sunscreen and a life vest and head to the nearest dock. Depending on your pup's swimming abilities, start with having your dog jump off the the dock to catch a water-resistant toy. Once he's mastered the art of water fetching, take the sport to professional levels by measuring the distance of each jump and set new goals each time.
Breeds that will love this: Labradors, golden retrievers and Portuguese water dogs
More than simply biking with your dog on a leash, bikejoring is an up-and-coming sport you and your pooch can participate in together, and it is rapidly growing in popularity. Rather than just having your pup run alongside your bike, this sport requires your pet to physically pull and run ahead of you while you maneuver your bike. This is a great sport for active dogs who love to run and are in peak physical condition. Beginners beware — practice makes perfect so start small by first trying a bike ride with your pooch on a leash and learning basic listening commands. Bikejoring works best when your pet is ready to work as a team.
Breeds that will love this: Huskies, pointers and American pitbulls
For pets who love to run, romp, frolick and chase, Treibball provides a new way to play ball while teaching your pet teamwork and listening skills. This new and growing competitive sport has been quipped by some as "urban herding."  Start with a large exercise ball and direct your dog to move the ball to a specific location, much like herding sheep. Once your pet has that down, try teaching your pooch to herd the ball into a "goal" then you can upgrade to using multiple balls of different sizes and even try this game out at the park, encouraging others to learn how to play.
Breeds that will love this: Herding breeds and all team-playing pets
For pets who just love to fetch and only fetch, try an upgraded version of this old time favorite with a classic game of baseball. Using a wiffle bat and a lightweight pet friendly ball, have your pet play catcher while you batter up. Bring plenty of balls so you can switch up the distance of the hits and keep your pet going long for hours of fun.
Breeds that will love this: Miniature pinchers, dalmations and Weimaraners
More tips for dog owners
Bonjour! Teach your dog another language
Leading the way for animal rehabilitation with Training Cesar's Way
Dog training tips every dog owner needs to know