Bringing your dog on a trip with you takes a little extra preparation but is well worth it. We caught up with Dr. Jessica Trice, the lead veterinarian at Brickyard Banfield Pet Hospital in Chicago, Illinois, who advises pet owners to book a visit to the veterinarian before leaving. He or she will make sure your dog is healthy enough for travel and will verify that all vaccinations are up-to-date as well. She also recommends getting your pet microchipped and says "it's the only permanent pet identification method that cannot be altered or removed and is marked with a unique code linking you to your pet."
So what should you pack? Here are our top picks for the traveling dog: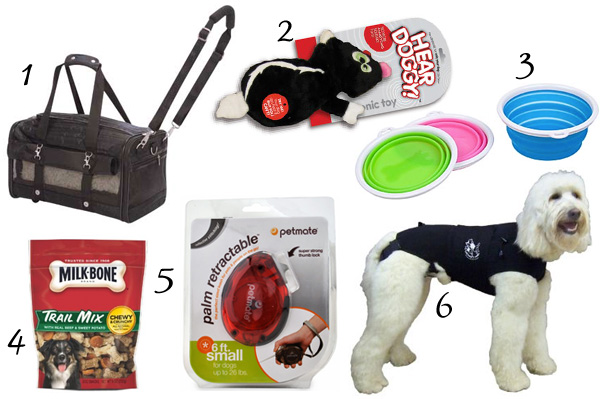 For pets up to 22 pounds, this large carrier complete with wheels is a luxurious way to fly and will keep your pup safe and secure until you reach your final destination. (petco.com, $120)
Trust us, a bored dog does not make a fun traveling companion, so keep your furry traveler entertained with a toy whose squeaker only he can hear due to the frequency. No need to annoy the other travelers around you! (dog.com, $9)
If you're like most of us, space is at a premium when traveling, so stash one of these barely there collapsible bowls from Bamboo in your bag to give your pup a quick drink on-the-go. PVC and BPA-free. (petco.com, $10)
These chewy and crunchy treats rich in protein will keep your dog going strong all hike long and beyond or whenever he needs a little reward. (amazon.com, $14)
When a big retractable leash is too bulky and a regular fixed length leash just won't do, get the best of both worlds with this compact retractable leash that fits in the palm of your hand. (entirelypets.com, $22)
Travel can be anxiety-inducing for even the most seasoned furry travelers, so help keep your dog calm with a lightweight wrap that applies constant, soothing pressure similar to the effect swaddling has on an infant. (anxietywrap.com, $40)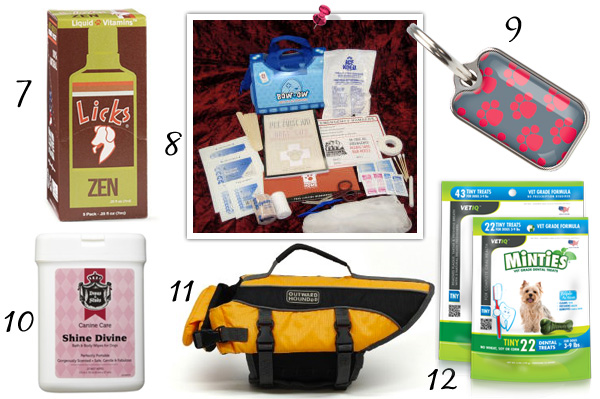 A holistic remedy made of all-natural ingredients that's part supplement and part treat, Licks for Dogs' Zen formula is our favorite and is a travel must-have that works to calm your dog and reduce anxiety. (pet360.com, $12 a for 5-count pack)
If the unexpected happens, be prepared with this veterinarian-approved first aid kit that has gauze, antiseptic wipes, tweezers, bandages and more. (cpr-savers.com, $28)
Dogs are more likely to run off in an unfamiliar area, so make sure your dog has an easy-to-read ID tag that won't twist off — like this one from blanket complete with a web site that has all your pet's personal info. Obvious but an absolute must! (blanketid.com, $25)
Stash this travel pack of wipes in your bag, car or bathroom for whenever your pup needs a freshening up. Your floors and couch will thank you! (Wag.com, $6)
If your trip involves being on or in the water, keep your pup afloat with this colorful life vest from Outward Hound that has reflective strips, easy-to-grab handles and a front float to keep your dog's head afloat as well. (shop.kyjen.com, $25)
Dog breath? Not here! Keep your dog's breath minty fresh all trip long with these all-natural ingredients dental treats available in four sizes. (samsclub.com, $19)
Expert must-haves
Jennifer Arnold, Founder and Executive Director of Canine Assistants, says she's learned two things from traveling with dogs: "Always pack extra dog food because delays happen, and you can never take too many plastic bags!" What else? A current health certificate and proof of vaccinations are both musts as well.
More dog gear
6 Innovative dog products
Tips to green your pet's routine
Toys that boost your dog's health