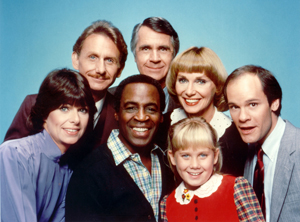 Does your four-legged pal think they own the house (even as they try to fit in with their new family)? Do they always have a smart bark back? Do they hate your cat Gretchen? If they are also a wise and true friend, then may we recommend Benson?
Photo credit: ABC via WENN.com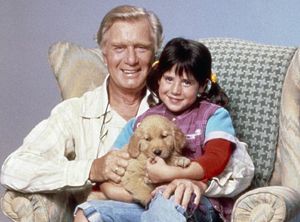 If you have a hyperactive hamster or gerbil with a penchant for mishaps while still managing to be the cutest little ball of fur in the world, you could have a Punky Brewster on (or in) your hands.
Photo credit: NBC via IMDb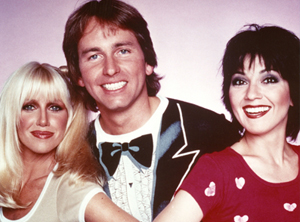 A goofy, accident-prone pup who's constantly in trouble with the ladies (in this case, his mama) can go by no other name. We've known more than a few golden retrievers that fit that description... dashing off on yet another misadventure as they knock over your favorite lamp. Three's Company fans will know this behavior as classic Jack Tripper.
Photo credit: ABC via WENN.com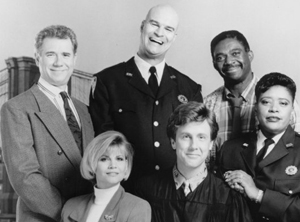 Every family that has a mastiff has an obedient protector and occasional enforcer who is also a gentle and kind-hearted pooch. Judge Harold "Harry" T. Stone had something similar in a bailiff named Nostradamus "Bull" Shannon in Night Court.
Photo credit: NBC via IMDb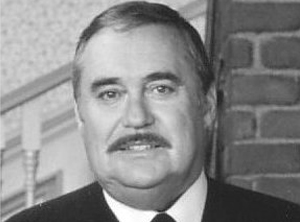 While some cats are compelled by their primal instincts — hunting, carousing and causing mischief throughout the neighborhood — other, more refined cats, would much prefer to preen themselves curled up on a favored pillow. They're content to bask before the fireplace rather than dirtying themselves stalking the night. If this describes your fastidious little fur-baby, you would do well to recall Mr. Belvedere.
Photo credit: ABC via IMDb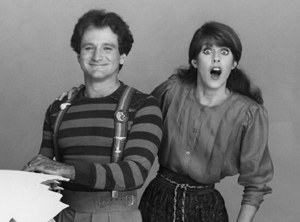 Mork was exiled to Earth in an egg-shaped spaceship for having a sense of humor. Every night he would recount his revelations to a booming disembodied voice named Orson. We thought you may want to share your daily nonsensical epiphanies with a similarly loud and endearingly grumpy parrot.
Photo credit: ABC via IMDb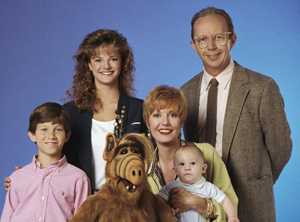 If you have a slightly perverse sense of humor and delight in twists of irony, name your fuzzy, wise-cracking alien Lucky. Or perhaps more likely, you can name your cat Alf after the fuzzy, wise-cracking — and cat-eating — alien who once tried to hypnotize the Tanner's cat Lucky into thinking he was a bagel.
Photo credit: NBC via IMDb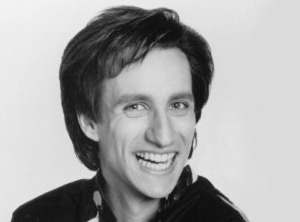 If you have a smaller dog, you know that when they get excited, they have a "happy dance" every bit as humorous and engaging as Balki's. They don't understand much of what you do, you don't understand much of what they do, yet you're the perfect match — you're (ahem) Perfect Strangers.
Photo credit: ABC via IMDb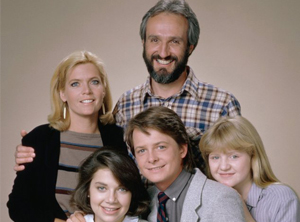 Have a super-smart Sheltie? There's a good chance your diminutive friend has large ambitions (well, for a dog). While your pal won't likely develop the business acumen of Alex P. Keaton from Family Ties, you could still hook him up with a sweet food dish... how about green — the color of money?
Photo credit: NBC via IMDb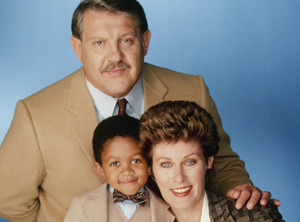 He wasn't the first to show us the value of adoption, but he was definitely the cutest. If you just adopted a new fur baby, pay homage to the doe-eyed, tap-dancing orphan who changed the lives of his new parents while capturing our hearts in the series of the same name.
Photo credit: ABC via IMDb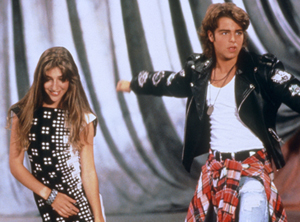 If your new furry bundle of joy is a quirky gal with a sweetly honest face, you can't do much better than Blossom. If at any time you inadvertently call her Amy Farrah Fowler, no one will blame you.
Photo credit: NBC via WENN.com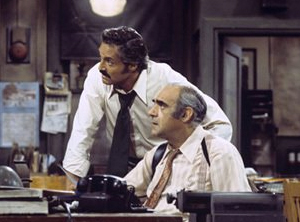 If you enjoyed his dry humor from Barney Miller, you shouldn't have any trouble naming your finned friend after Abe Vigoda's iconic character, Fish. A little on the nose, sure, but isn't everyone tired of Nemo?
Photo credit: ABC via IMDb
More pet name ideas
Magical pet names inspired by Harry Potter
Pet names inspired by sci-fi
Pet names inspired by cult films