How To Get Your Pet Into Show Business
Every pet parent thinks that her pooch or pussycat is the cutest critter, ever. But how do you turn your canine's or feline's innate adorableness into a career as a pet model?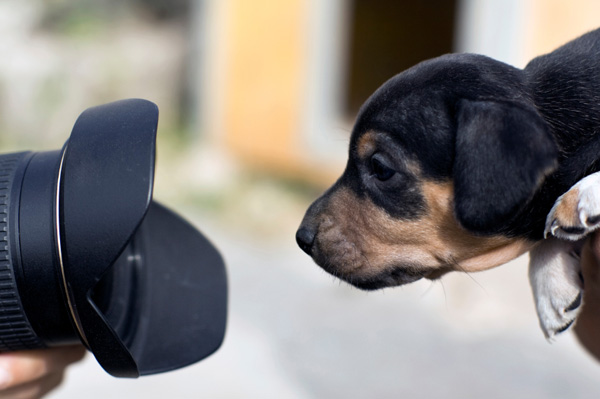 "It's a hustle and a lot like being a stage mom," says professional dog trainer, Babette Haggerty, whose father Captain Haggerty wrote the book How To Get Your Pet Into Show Business. "Not every dog is going to become Lassie. [So] the payoff is just to have fun with your pet." Want to get your pet a modeling or showbiz gig? Here are five tips for the aspiring pet Momager.
Strike a pose
Don't spend a fortune on professional photos. Simply snap a few well-lit and clear shots of your dog or cat that capture his or her personality, and have them printed in a 10- by 8-inch format.
"Draft a resume for your dog or cat and put together a montage of photos of your pet with different looks or doing tricks," Haggerty suggests. Then submit your pet's package to several agencies.
Get an agent
You can contact advertising agencies in your area directly that work with pet products, however, Haggerty says an agent will increase your pet's shot at stardom. Pet agencies like Animal Actors International can connect you and your pet with TV, film and publishing clients. But beware of scams and make sure to ask each agency for its terms and conditions up front.
Market your pet's look
As Haggerty explains, a security company probably wants a strong looking dog like a German shepherd or a Doberman pinscher for its advertising campaign, whereas a luxury car company might cast a poodle because that type of dog looks expensive and luxurious.
In terms of casting, agents want a healthy looking pet, but don't fret if your pet isn't perfect. Just as Tyra often gravitates toward nontraditional beauties on America's Next Top Model, your pet's quirky features will make it stand out in the crowd.
Get your pet camera-ready
To land your pet TV or film gigs, Haggerty says you have to make sure your pet is obedient and ready to sit, jump and roll over on command. Getting your pet to stay still and to be accustomed to bright lights is also crucial to your pet's success on casting calls.
"The more they're able to respond to tricks and signals, the better off you are," says the author of The Complete Visual Guide to Good Dog. "You always have to be prepared that the director will ask for more."
Set goals
If bragging rights are more important to you than fame and fortune, there are many pet food and calendar contests to enter your pet in. For example, Wellness Pet Food hosts a "Pet of the Month" contest on its website, and New York City-based brand United Bamboo selects 12 fancy felines each year to model in its calendar.
"Be clear on what your goal is," Haggerty offers. "Do you just want to get your pet exposure in an ad or on a calendar, or do you want to try to make a career of it?"
More on pets
Money management: Can you afford another pet?
Etsy roundup: Merriest pampered pet finds
The best winter coats for pets