Keep FiFi Looking Pretty And Smelling Fresh
The thought of grooming your dog may make you want to run for the hills, but it doesn't have to be something you dread. With our list of grooming must-haves for at-home maintenance, keeping your dog's coat in tiptop shape might become something you look forward to doing yourself.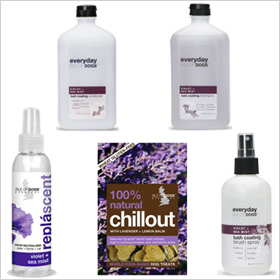 Isle of Dog Violet + Sea Mist Bundle
When it comes to bath essentials, every dog needs a fresh-smelling shampoo and conditioner to keep his coat shiny and soft. Look no further than the Isle of Dog Violet + Sea Mist Bundle. This must-have kit contains Isle of Dog's Everyday Lush Coating Shampoo, Conditioner and Brush Spray along with the Violet + Sea Mist Replascent and a box of the 100 percent Natural CHILLOUT Treat. What more could a dog want? Oh, and the shampoo smells so good that you may even be tempted to use it on your own hair (iodogs.com, $50).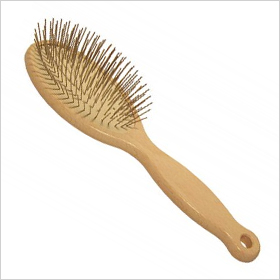 Wooden Pin Brush
Every groomer knows that a sturdy brush is essential to keeping your dog's coat looking its best. Knots are never nice, so for dogs with a medium to long coat such as golden retrievers, spaniels and schnauzers, pick up this wooden pin brush to keep the coat tangle-free. Constructed with extra cushion, this expertly designed brush with a beechwood handle is comfortable to use and gentle on your pet (olivegreendog.com, $17).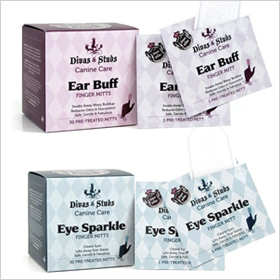 Divas & Studs Ear Buff and Eye Sparkle Finger Mitts
Are you having trouble keeping your dog's ears and eyes clean? Well, you're in luck because the Divas & Studs Ear Buff and Eye Sparkle Finger Mitts are exactly what you need. They make cleaning your dog's ears and tear stains a snap and fit right over your finger, putting even the most timid dog at ease. The single-use packets are easy to use when you're on-the-go and can be tossed in your bag for a quick clean whenever your pup needs it (lafreshgroup.com, $10 for a 30-pack).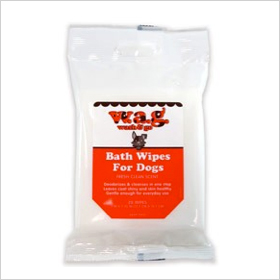 WAG Bath Wipes for Dogs
Messy paws and dirty coats are a no-no in my house, so be sure to keep WAG Bath Wipes for Dogs on hand to take care of any muddy paws that come traipsing through your kitchen. Great to keep in the car and when you're traveling, these gentle wipes are a lifesaver for when your dog is looking anything but fresh (lafreshgroup.com, $5 for 20 wipes).
Soggy Dog Large Towel
The dreaded post-bath doggy shake might make you want to postpone your dog's romp in the tub, but with the Soggy Dog Towel, that's not necessary. Get your dog in the tub and before he shakes off, dry him with this grooming must-have — the Soggy Dog towel. Cute and functional, this 100 percent cotton towel complete with side pockets will help you dry your pet with ease (olivegreendog.com, $40).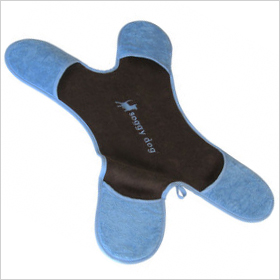 Tell us
What grooming tools can you not live without? Tell us below!
More on dog grooming
Small dog grooming tips
Grooming tips for stylish dogs and cats
Natural pet grooming