(page 3 of 4)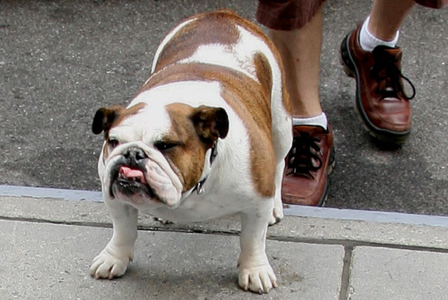 We all think we have the cutest dog or cat (or even iguana if that's your thing) in the world. Celebrities are no different. They love their fur babies, too! Check out these 10 celebs who love their four-legged (or no-legged) friends.
Love your pet
as much as they do?
Adam Sandler and his English bulldogs
Funny man Adam Sandler is known for his infantile characters and hilarious songs, but there's more to Sandler than meets the eye. You might recognize his now departed Mr. Beefy as the talking pup in Little Nicky.
A longtime dog lover, he even included Mr. Beefy's progeny Meatball in his wedding festivities and a short film that's featured on the DVD for Eight Crazy Nights. Sadly, Meatball passed in 2004, but hopefully, the pup he got as a wedding gift in 2003, Matzoball, will be with him for years to come.
Tori Spelling and Hank
Tori Spelling and husband Dean McDermott are the proud "parents" of a micro-mini piglet named Hank. But the Spelling-McDermott household is no stranger to farm animals. In addition to a pet dog, they also have chickens and a couple of goats. Hank's even beat out the dog for his place in the couple's bed!
Nicolas Cage and Cobra
Nicolas Cage can't stop making news between allegedly being taken for a ride by his accountant and being bailed out of jail by Dog the Bounty Hunter. But we can't figure out why the real news isn't his pet cobra. While Cage no longer owns the cobra, who he claims hated his guts, he gives her full credit for being a major influence for his character in the Ghost Rider movies.
Photo credit: Ray Filmano/WENN
Up next: More celebrities who love their pets >>