(page 2 of 4)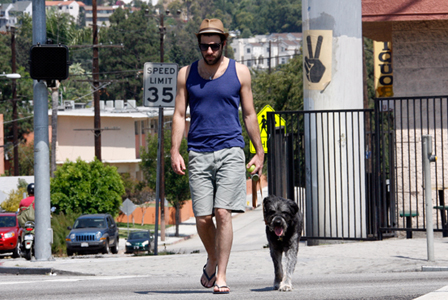 We all think we have the cutest dog or cat (or even iguana if that's your thing) in the world. Celebrities are no different. They love their fur babies, too! Check out these 10 celebs who love their four-legged (or no-legged) friends.
Love your pet
as much as they do?
Zachary Quinto and Noah
Whether you're a fan of Quinto's ruthless super-powered serial killer character from NBC's Heroes, awaiting J.J. Abram's next installment for the Star Trek franchise to see his portrayal of everyone's favorite Vulcan or eagerly awaiting his latest stint on horror-drama American Horror Story, you may have the impression that Quinto is a bit dark. You'd be wrong. This gold-hearted guy is frequently spotted around L.A. with his scruffy little rescue dog, Noah.
Leonardo DiCaprio and his tortoise
While we're not sure what his pet tortoise's name is, of one thing we're certain. Leo DiCaprio's purchase of a 38-pound Sulcatas tortoise is a heck of a commitment! Not only could his shelled friend grow to 200 pounds, but he may outlive the Inception star. Turtle power!
Ryan Gosling and George
Ryan Gosling is no stranger to turning heads, but we think we know his secret. Traipsing about town with dog George is bound to garner some attention from the ladies. George is just as comfortable on the red carpet as he is on the sidewalk. He attended the 2008 Screen Actors Guild (SAG) Awards with his owner and even hit the stage of Late Night with Jimmy Fallon in 2011. Of George's rather unusual mohawk haircut, Gosling told Fallon, "He insists on it. He's some kind of muppet."
Photo credit: WENN.com
Up next: More celebrities who love their pets >>