Raw diets for dogs have become wildly popular, but if you're not wild about doing all that grinding, measuring and mixing yourself, check out these raw diet meals that couldn't make feeding a raw diet any simpler.
Frozen raw diet meals for dogs
Usually in the form of nuggets or patties, premade frozen raw diets require a little freezer space and some thawing time. Available in a variety of delectable flavors, your pooch will be licking his bowl clean after every single meal. Check out our top premade frozen raw diets for dogs and see for yourself.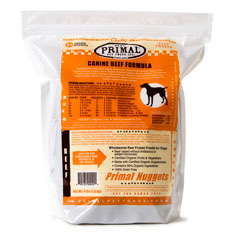 Primal Pet Foods
Made from only 100 percent human-grade ingredients, raw diets from Primal Pet Foods will make even the pickiest raw eater wag his tail in delight. With eight raw frozen formula options to choose from (and a freeze-dried product line as well), your dog won't be able to choose a favorite. All of the ingredients used in Primal Formulas are sourced from ranches and farms in the U.S. and New Zealand that produce wholesome sources of protein through natural, sustainable agriculture. We'll take one of each, please! ($22 and up, depending on flavor per 4-pound bag, pethealthandnutritioncenter.com)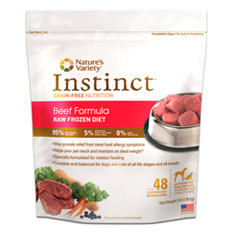 Nature's Variety
With eight complete and balanced protein options, Nature's Variety is a leader in the raw diet revolution and a company that loves their pets as much as you love yours. This Nebraska-based company's products are made in the heart of the U.S. in an EU-approved and USDA Certified Organic Processing Facility. Newest to their lineup? The Duck Formula, which may soon become your pet's new go-to raw meal. ($22 for 3-pound bag, petfooddirect.com)
Freeze-dried raw diet meals for dogs
Freeze-dried meal options work great for dog owners who don't have a ton of freezer space, travel often or who just prefer the convenience of a dog food that can stay in the pantry. From beef to rabbit to duck and more, these freeze-dried meals will keep your furry family member coming back for more. Here are our top freeze-dried raw diets.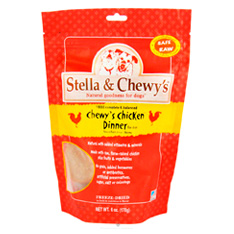 Stella & Chewy's
Available in five protein options, Stella & Chewy's prides itself on providing your pet with 100 percent complete and balanced nutrition. Their meals are sourced from USDA-inspected facilities and contain organic fruits and vegetables but without all the bad stuff like artificial preservatives, hormones, antibiotics or fillers. They also have a full line of frozen raw diets. We think your pup will become a fan of this company that's committed to protecting the health of your family and pet. ($11 for 6-ounce bag, doggiefood.com)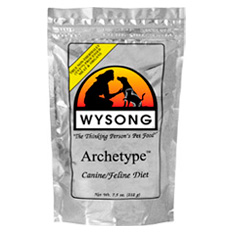 Wysong
With products created by DVM and Ph.D.-level scientists with more than two decades of experience, Wysong knows a thing or two about pet nutrition. Their Archetype™ product line was designed to mimic a carnivore's diet in the wild and is suitable for all size dogs at all life stages. It's packed chockful of raw meats, organs, bones, essential fatty acids, probiotics, enzymes, plant nutrients, vital micronutrients and more. Wysong is "The Thinking Person's Pet Food"' and their raw diet will be a welcome change for your deserving pooch. ($17 for 7.5-ounce bag, wysong.net)
More on the raw diet for dogs
Raw diet for dogs: Myths and facts
Raw diet for dogs: What you need to know
Homemade healthy dog food