Meet the breed: Thai Ridgeback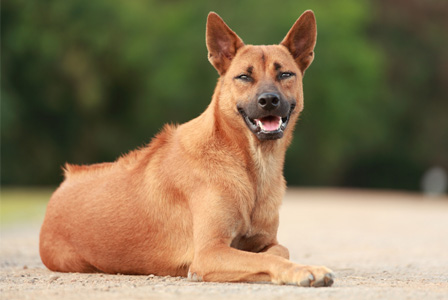 The mighty Thai Ridgeback means business when it comes to protection. Strong, loyal and fearless, this breed has the makings of a four-legged bodyguard.
Everything you need to know about the breed
Forget alarm systems, nothing guards you or your household better than this burly canine. If you're looking for a breed that stands by you and for you, Thai Ridgebacks are the way to go. Here's everything you need to know about this tough and rare breed.
Characteristics
What would a Thai Ridgeback be without the signature trademark responsible for its given breed name? The Thai Ridgeback is recognized for the ridge of hair along its back formed by hair growing opposite of the remainder of its coat. With only a handful of pure breeds exhibiting this physical trait, this unusual marking makes the Thai Ridgeback stand out from the crowd. This medium-sized pup has a build strong enough to rival a WWF champion. Made of solid muscle and a tough-as-nails persona, the Thai Ridgeback was born to paw-tect and serve.
Grooming
Staying true to this breed's no-nonsense personality, grooming requirements for this sturdy pup require nothing more than the basics. A simple bath, routing nail-trimming and regular dental care cover their low-maintenance grooming needs. Much like other breeds, persnickety pups may put up a fight about getting in the bathtub. Early training for bathtime can ease the pain of heavy lifting down the road.
Training
Highly intelligent and extremely stubborn, Thai Ridgebacks have an agenda that's all their own. Independent by nature, this breed may have a tough time following commands without proper implementation during the early life stages. Primarily bred with little to no human contact, this breed can possess a strong sense of self. Novice pet owners with no previous pet-raising knowledge may experience challenges when it comes to raising and training a Thai Ridgeback. With the right training at an early age, this breed makes a very loyal and loving family pet.
Health
Known as the tough guys of the dog world, Thai Ridgebacks aren't likely to be seen at the vet's office for minor boo-boos. This robust breed is among the healthiest with a short list of potential health risks including hip dysplasia and dermoid sinus. Thai Ridgebacks can live long, healthy lives with routine checkups and vaccinations.
Best fit for
This hardy breed does well in many environments. With energy levels that vary from low to high, Thai Ridgebacks can handle a healthy balance of relaxation and play. Because this is a sturdy breed, born to work and roam, moderate daily exercise is must. Due to the independent and, at times, stubborn nature of this breed, brand new pet owners might consider getting acquainted with pet-parenting and training basics before adopting this breed. Once settled and properly trained in a household, Thai Ridgebacks will protect the family nest unlike any other breed on the block.
More dog breeds
Meet the Breed: Yorkshire terrier
Meet the Breed: Pomeranians
Meet the Breed: Bulldogs
More From SheKnows Explorer