Keep Pets Cool With Frozen Treats
Nothing sounds better on a hot summer day than an ice-cold drink or a big scoop of ice cream. The cold sensation is refreshing and one of the best ways to beat the heat. Your pets will appreciate a refreshing treat just as much as you -- don't let them miss out on the treats of summer! Let them indulge in some frozen treats too.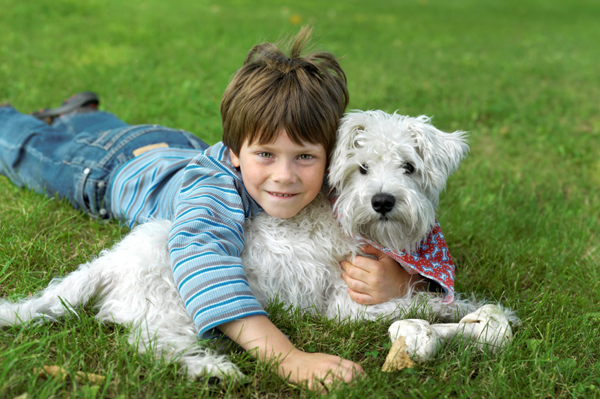 Frozen treats are just as tasty to pets as they are to us, and luckily you can find pet-friendly versions in the same area as your own frozen treats. Dog ice cream is truly a treat, but you can also make different varieties of frozen pet treats with ingredients you may already have on hand. Below, you'll find our favorite frozen pet treats, including store-bought and homemade versions.
Frosty Paws
Frosty Paws by Purina makes a line of frozen ice cream treats that looks eerily similar to those little cups of ice cream we used to enjoy as children. Frosty Paws come in two flavors and includes no artificial colors, flavors or added sugar. Plus, these treats are fortified with vitamins and minerals -- making this treat healthier than its human counterpart. It is available in the frozen section of most grocery stores or at pet supply stores.
Nature's Variety Frozen Sweetspots
Nature's Variety makes frozen treats in flavors like sweet potato and molasses or peanut butter and honey, making them sound almost too good for the dogs to enjoy alone! They contain live, active cultures which can help boost your dog's digestive system. They are all-natural and dog-approved.
Make your own
Easy treats: For a quick version of frozen pet treats, all you need is a can of wet food. Pick your favorite variety and pour the contents into a plastic bag with one corner snipped off. Line a cookie sheet with wax paper and pipe out shapes like dog bones, paw prints or hearts. Stick the sheet in the freezer for at least 20 minutes. When frozen, peel off the treats and store them in an air-tight container.
Fruity treats: Small pieces of frozen fruit like apples, bananas or even small berries are the perfect tasty treat for your dog. The plus side is that you can enjoy these treats too! Some dogs may be sensitive or allergic to certain types of fruit, so dish these out sparingly and pay attention to any signs of discomfort. Remember that grapes are toxic to dogs and should never be fed to them, even in small quantities.
Peanut butter treats: While most dogs would be satisfied with just a plain ice cube to munch on, they'll love some with flavor even more. Blend peanut butter, cooked sweet potato and unsweetened applesauce in a blender until smooth and combined. Pour the ingredients into an ice cube tray and place in the freezer until they are frozen. Pop out a treat every time your dog needs a little cool refreshment.
Pupsicle recipe
Yields 6
For a special treat your dog will really love, make a dog-friendly Popsicle. The flavor options are endless, so get creative and adjust the flavor to fit your dog's preferences or to fit the ingredients you have on hand. This version that includes mint will help bust bad breath in addition to being a much loved treat.
Ingredients:
2 cups low-sodium, organic chicken broth
1/2 cup unsweetened, organic apple sauce
1/4 cup ground flax seed
1 jar organic chicken and rice baby food (or flavor of your choice)
1/4 teaspoon garlic powder
1/2 cup chopped fresh mint
Supplies needed:
Popsicle mold or ice cube tray
6 jerky pet treats
Blender
Directions:
Blend ingredients in a blender or food processor until combined. Pour into an ice cube tray or mold and stick a jerky stick in each Popsicle.
Freeze until solid, and then serve as needed.
More for dog lovers
The best products to keep your pets cool this summer
Am I ready to own a dog?
How to foster animals without becoming a hoarder