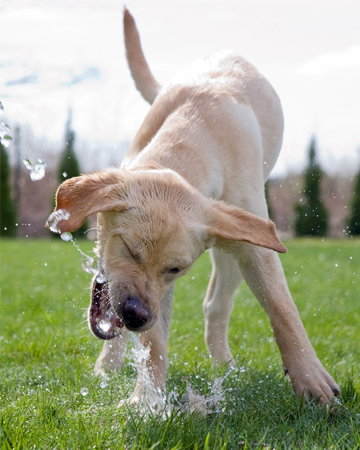 When it getS hot, cool FIDO down
Depending on where you live, your pets may relish the warmer air. But the summer heat can be downright dangerous. Keep your furry friends cool this summer with some of our favorite products.
The dog days of summer can get long and hot for a four-legged creature that sports a fur coat year-round. A few simple tips and great products can help keep your dog cool and, most importantly, safe this summer.
Summer safety tips
Never leave your dog in a car, even with the windows open. An air-conditioned car can go from comfortable to a sweltering oven in no time flat. Even on a nice day if the sun is hitting the car, the heat builds up and your dog can suffer heatstroke.
Be mindful of hot pavement. Blacktop pavement and even concrete can cause serious burns on your pet's feet. The same applies to summer hikes when trails are exposed to the summer sun. Touch any surfaces with the palm of your hand before you let your dog walk on them, if it is uncomfortable to the touch, it will be uncomfortable for your dog, too.
Avoid walks or vigorous activity during the hottest parts of the day. Older dogs, dogs with thick coats and dogs that are not used to the heat can get overheated quickly even on short walks. Remember that dogs do not have the ability to sweat so it is difficult for them to cool off.
Dogs should always have access to ample shade and fresh cool water. Fill your dog's bowl with ice when you leave in the morning and top it off with cool water. It won't likely stay cold all day but it will stay cool a lot longer. Keep water in shady areas.
Summer pet products we love
More pet safety tips
Pet safety in your car
7 Pet safety tips
Tips for hiking with pets