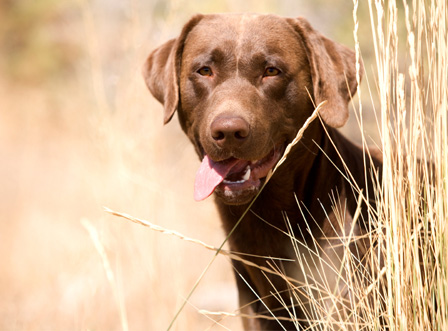 If you're looking for a loyal companion to help you track, flush, and retrieve on your next hunt, these dogs are the best options. They range in size and ability but they all are eager to please and willing to let you take credit for the trophies.
Best picks for a hunting companion
Labrador retriever
There's a reason these family-friendly dogs have moisture-repellent coats and webbed feet and it's not just to go chasing after balls thrown in the pool. Labs are great swimmers, which makes them a great choice for duck hunting. The name says it all: These dogs are the perfect retrievers and their gentle bite means they will bring you back your kill without harming it. Labradors are smart, eager to please and good-natured, making them a great hunting companion in a variety of situations.
Coonhound
Another dog that lives up to its name, you'll often see coonhounds with their noses to the ground. They are persistent and determined hunters who will stay on track regardless of the conditions or terrain. This outgoing and friendly breed is relatively laid-back compared with other hunting dogs, but don't be surprised if they tree the neighborhood cats.
German short-haired pointer
This breed is best known as a bird dog but is equally adept at tracking land animals, from raccoon to deer. They are highly intelligent and easy to train. They are considered to have the best scenting ability of all the bird dogs. As their name suggests, they don't flush but rather stop and point. This loyal watchdog requires a lot of activity and stimulation.
Brittany
This breed is intelligent, high energy and eager to be trained to hunt. It is best known as a bird dog and has the ability to point and retrieve. They are good-natured and relatively smaller than most hunting dogs, making them a popular choice for families as well. Brittanys have a tendency to roam due to curiosity, so good training is necessary.
Beagle
The familiar howling that might get this breed in trouble with your neighbors is the reason it is an excellent hunting companion. Combined with its strong scenting ability, its high energy and its merry personality, the beagle is a great hunting dog both alone and in packs. Beagles are trackers by nature and tend to be a bit stubborn, so they need good training. Their small size makes them a good option for rabbit or quail hunting.
Spanish water dog
Not to be confused with the famous First Dog, the Obamas' Portuguese water dog, Bo, although the breed likely descends from the Portuguese water dog and the spaniel. In other countries this breed is often used to herd sheep or goats but is most efficient as a bird dog in water; its thick coat makes it a bad option for hunting in dense brush. These dogs have also been used in search-and-rescue missions and in law enforcement bomb and narcotics divisions.
Golden Retriever
Like the Labrador retriever this family friendly and popular breed is the perfect companion on a duck hunt. Golden retrievers are highly intelligent and easy to train, have a friendly disposition, and are hard workers. They are often used as search and rescue dogs. Golden retrievers are active and energetic and thus require a lot of activity.
Pointer
This breed is thought to be the combination of foxhounds, greyhounds and coonhounds. That combination makes it not only a good hunter but strong, with good stamina. As the name suggests, these dogs point out the birds or other prey so the hunter can make her move. They can stay on a hunt for hours without losing energy -- which means they need a lot of activity when they are not on a hunt.
English springer spaniel
Don't let their small size and sweet disposition fool you -- these dogs make excellent hunters. They are known for their high energy, which sustains them through long hunts, and their ability to adapt to a variety of terrain. They have a gentle grip, which is perfect for retrieving birds. As the name suggests, they typically track prey and "spring" to scare the birds out for the hunter to shoot. They are eager to please and make a great family companion.
Fox terrier
These dogs were originally bred to hunt fox, as the name suggests. Their keen eyesight, small size and stamina make them a great choice for small animals and birds. They are rarely used for hunting today but they are known to dig for vermin and make an apt choice for anyone looking for a small hunting dog. Their small size allows them to fit into cramped spaces and chase animals right out of their dens.
More on dog breeds
Top 8 medium-size breeds
Top 10 small breed dogs
Top 10 best hypoallergenic dog breeds