Hear That
Motor Running?
Have you ever wondered why cats purr? The answers (we know) might surprise you!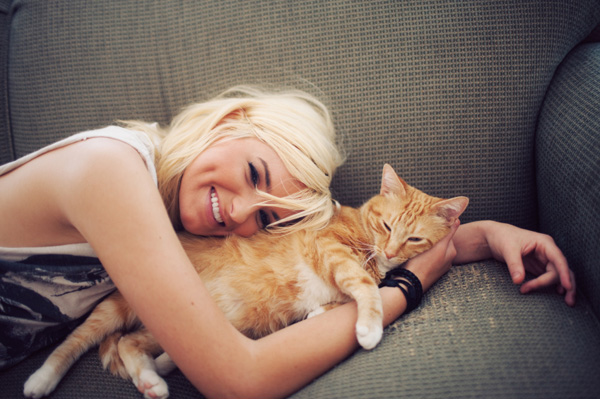 Cats and their personalities are varied, just like people. Some are frisky, others like to lounge -- a lot! We've all seen outgoing cats, and then there are the ones that stay tucked away, gracing us with an appearance only when they feel like it. One thing is true of most all cats: They purr. But why?
A mystery wrapped in fur
Leave it to cats to hold back with a few secrets about why exactly they purr. Cats purr in different situations and for different reasons, but there is still a bit of mystery surrounding the exact reasons. A few things we do know is that cats purr when they're content, but also when they're a bit nervous.
According to Leslie Lyons, associate professor at University of California-Davis school of veterinary medicine, "I would think maybe it's very similar to a human when we hum. We can hum when we're very happy, but also we hum when we're a little nervous and frightened to calm ourselves down. So maybe that's how a cat uses their purring."
When the time is right
Kittens begin to purr when they're just two days old and they can purr while they're nursing. This helps them communicate to their mother that all is well. That's the type of purring you and I are most accustomed to -- the little motor that runs when you're playing or cuddling and petting a cat. That, too is a signal that "It's all good!"
As a cat ages, their purring may mean different things: Cats that are very frightened may purr. Female cats purr when they are delivering their kittens. Cats can also purr when they're very ill or close to death. Many think it's how cats help comfort themselves.
Hear me roar -- uh, purr!
It's not only your standard pet cat that purrs. Dr. Benjamin L. Hart, distinguished professor emeritus at UC-Davis vet school, notes that cats that purr cannot roar, and cats that roar cannot purr. Large cats that don't roar, like pumas, cheetahs and mountain lions, also purr!
Our furry friends have their own ways of expressing themselves. Now you know some of the reasons why!
Read more about cats

Introducing a new cat to your home
Top 5 litter boxes
How to leave your cat home alone