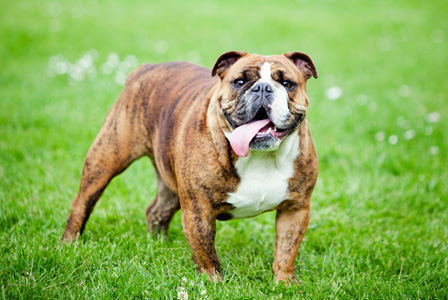 Who can resist an adorable roly-poly bulldog? With a face that is too cute for words and a jolly personality that can put a smile on anyone's face, it's easy to see why this popular breed is in high demand.
All you want to know about the breed
Like most breeds, bulldogs are not for every household. Find out all you need to know before bringing home this squishy-faced companion.
Characteristics
Fully equipped with a stout frame, broad shoulders, short legs, wrinkles and an intimidating protruding under-jaw, bulldogs may seem unapproachable and threatening. Historically bred as fierce fighting dogs, bulldogs got their name from participating in the ancient sport of bull-baiting. Don't let their mean-looking mugs scare you away, though. Today, these sweet and gentle dogs make great companions. Bulldogs can be found in a variety of coat colors, including white, red, fawn and brindle. On average, bulldogs can weigh upwards of 50 pounds. Despite their size, dogs of this loving breed often think they're lap dogs.
Grooming
When it comes to grooming, bulldogs are in a league of their own. While most short-haired breeds tend to be low-maintenance in the grooming department, keeping your bulldog tidy takes consistency and patience. With folds and folds of skin to clean, owners of this breed can expect to make grooming part of their daily routine. The fur and skin under their rolls must remain clean and dry in order to avoid the risk of skin-fold dermatitis. Aside from the skin folds, general coat maintenance can be as simple as occasional brushing and bathing.
Training
You might know bulldogs for their famous skateboarding skills, but unless your bulldog has what it takes to be a YouTube sensation on wheels, leave the training to the experts. This stubborn breed is known for having a mind of its own. Training can take patience and lots of practice for tenacious bulldogs, but their amiable tendencies make them willing students.
Health
Owners must be ready to dedicate time and money toward proper care. Due to their short snout, bulldogs can experience difficulty breathing and don't do well in warm climates. It is important to provide bulldogs with daily exercise to prevent weight issues, although too much exercise can cause breathing discomfort. This breed is prone to skin allergies and may develop hip issues with age.
Best fit
Bulldogs make excellent companions and family pets. They are typically friendly and do well in homes with children. Since bulldogs would rather cuddle with their owners than play fetch, apartment living is right up their alley. Before bringing this loving pet into your home, make sure you are able to dedicate necessary time to take care of this tender but rewarding breed.
More From SheKnows Explorer