Who said your best friend, aka your dog, can't rock the custom handmade look? We turned to Etsy to find unique accessories for Fido.
Whether you're on the hunt for a handmade dog collar, a sweet sweater for your pooch, a to-die-for dog hat or cute custom dog tag, there's something for everyone -- er, every dog -- in this Etsy roundup. Check out these fabulous accessories for your dog.
Silly owls quick-
release collar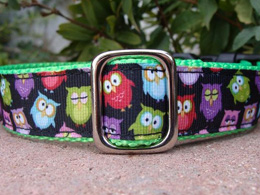 Etsy seller Fairy Tail Collars (find her on Facebook and her website) hand crafts this 1-inch wide adjustable quick-release dog collar ($20). The multi-color owls on grosgrain ribbon trim is sewn on nylon webbing in a color of your choice. The dog collar includes heavy-duty nickel hardware with a slide that adjusts for a sleek look. Finally, the collar is box-stitched at stress points, to stand up to super-active dogs.
Preppy argyle
dog tags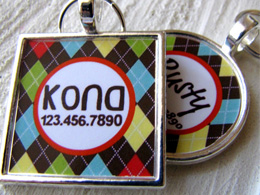 Order an adorable custom pet ID tag for your dog from Etsy seller Sofa City Sweethearts (find her on Facebook and Twitter). We loved this preppy argyle print ID tag ($10) -- you can choose round or square and customize it with your dog's info, including his name and your phone number -- but you can choose from endless designs. At this price, you can trick out your pet for the same price as a tag from a chain pet store.
Green ombre cashmere
knit dog sweater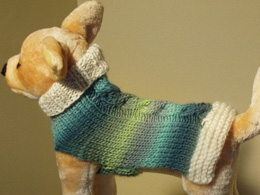 Surely your dog needs a custom dog sweater. After all, it's cold outside! Check out the posh green ombre hand knit dog sweater ($28) from Etsy seller Jenya (find her on Facebook and Twitter). The beautiful and soft sweater is accented with an ivory hem and collar -- you might just find yourself jealous of your dog. This dog sweater must be washed by hand, so no frolicking through the mud for Fido in this classy piece of dog clothing.
Valentine's Day
crocheted dog hat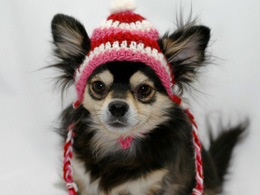 I'm not sure what's cuter -- the dog model or this adorable crocheted Valentine's Day dog hat ($15). Handmade by Etsy seller Shaggy Chic (find her on Facebook and Twitter), the hat is crocheted in pink, red, and white wool and mohair blend, It includes ear flaps with braids -- yes, really! This hat is size small and fits Chihuahua-size dogs, but if you need a larger hat you can message the seller for custom orders.
Find more handmade items in our weekly Etsy roundup >>
More Etsy goodness
Etsy roundup: Original paintings
Etsy roundup: Brown home decor
Etsy roundup: Coffee mugs